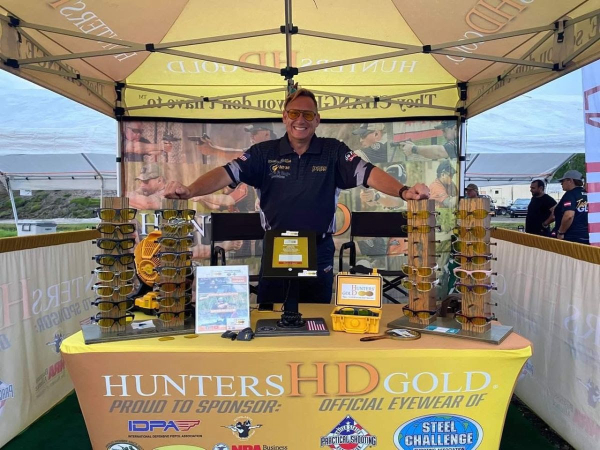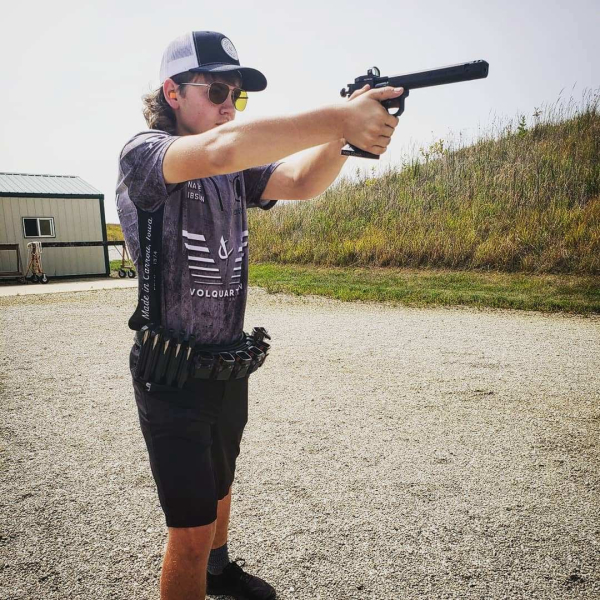 SASP athlete, Nate Gibson wearing Hunters HD Gold frames and lenses
Hunters HD Gold, manufacturer of premium eye protection has continued its Gold-level sponsorship of the Scholastic Action Shooting Program (SASP) into 2021. Hunters HD Gold utilizes specialized lens technology to allow more light to pass through the lens than traditional polycarbonate lenses. Packed with other features such as high contrast, anti-reflective, and Photochromic transition technology, Hunters HD Gold eye protection provides great value to shooting sports competitors. New for 2021, Hunters HD Ruby line of eye protection enhances visibility of electronic red dot optic or red fiber optic sights and increased contrast against cloudy skies.

"Hunters HD Gold is excited to continue our sponsorship of the Scholastic Action Shooting Program in 2021, said Hunters HD Gold Marketing Director, Kenzie Fitzpatrick. "Safety is the #1 priority for this sport, followed by performance. We firmly believe that our eyewear is the best at providing both to these young athletes. These kids are the future of both shooting sports and our 2nd Amendment Rights. We are proud to support a program that does so much for junior shooters!"

"We are excited about the launch of Hunters HD Ruby," said Brian Conley, President of Hunters HD Gold. "We spent months testing tint levels and working with shooters directly to perfect the lenses. We don't develop anything without help from the end users who need a quality product that works for them. Look for the Hunters HD Gold tent at your next match to demo a pair of Ruby's."
"Hunters HD Gold continues to offer new technology to the action shooting sports competitor," commented SASP National Director, Rick Leach. "Athletes in this sport are keen to explore products that give them the competitive edge. With the increased popularity of red dot electronic sight disciplines in our program, the new Hunters HD Ruby line of eye protection is sure to explode in popularity, even in other youth sports such as clay shooters who track targets against blue skies. We are so thrilled for the continued support from Hunters HD Gold. Their commitment to shooting sports is unrivaled and athletes can count on seeing the iconic Hunters HD Gold demo tent at the upcoming SASP College Nationals/Talladega Regional Championship in March."
About the Scholastic Shooting Sports Foundation
The Scholastic Shooting Sports Foundation (SSSF) is 501(c)(3) public charity responsible for all aspects of the Scholastic Clay Target Program (SCTP) and Scholastic Action Shooting Program (SASP) across the United States. SCTP and SASP are youth development programs in which adult coaches and other volunteers use shooting sports to teach and to demonstrate sportsmanship, responsibility, honesty, ethics, integrity, teamwork, and other positive life skills.

For more information about SSSF, visit www.sssfonline.org

Media Contact
Tom Davis
tdavis@sssfonline.com
Like and Follow Us on Social Media