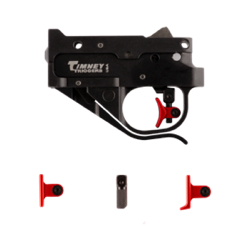 Timney Calvin Elite Trigger for the Ruger 10/22 (Model 1022CE – Retail $269.95)
Phoenix, Arizona (June 11, 2018) — Timney Triggers, the oldest and largest trigger manufacturer in the world and the leader in the aftermarket trigger category, announced today the expansion of its wildly popular Calvin Elite series of trigger to include models for the Ruger® 10/22® rifle.
The all-new Calvin Elite replacement trigger for the 10/22 platform features one-piece complete trigger assembly of CNC machined 6061-T6 aircraft grade billet aluminum. The trigger, sear, and hammer are wire EDM cut and heat-treated steel for exceptional durability.
The new Timney Calvin Elite is a self-contained, 100% drop-in trigger ready to install in your rifle for an exceptionally smooth, crisp, trigger pull with no gunsmithing, fitting, or adjusting required - Simply push out the two action pins and "drop in" the new Timney complete trigger assembly.
The Timney Trigger features a Timney-designed extended magazine release that can be operated by one finger for exceptional ease and accessibility. It also comes standard with an auto bolt release.
The trigger is set at 2 pounds from the factory, with no creep.
The trigger comes with a total of four different shoes that include curved, flat, heeled, and knurled. All necessary tools for fitting and adjusting shoes are included.
One key feature of the trigger is the shoes are fully-adjustable for a custom fit for every user and application. The shoes are adjustable for length of pull, cast and height for the ultimate in custom comfort and positive contact.
A first in the 10/22 platform and backed by the foremost name in precision triggers – Timney.
Timney Calvin Elite Trigger for the Ruger 10/22 (Model 1022CE – Retail $269.95)
Timney Triggers is dedicated to ensuring our customers a lifetime of hassle-free shooting enjoyment. That is evident in the last step of the manufacturing process, when each trigger is hand assembled, tested, and calibrated for the specific rifle model it is intended for before it's delivered to the customer's door. Timney Triggers is proud to offer a lifetime warranty on all their products and each trigger is proudly Made in the USA.
For more information on Timney Manufacturing please write to Timney at 2020 W Quail Avenue, Phoenix, AZ 85027, call toll-free 866-4TIMNEY, or visit the Web site at www.timneytriggers.com
# # #
Editorial Contact:
Chris Ellis
304-574-3555