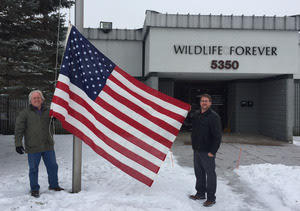 White Bear Lake, MN - To commemorate the thirtieth Anniversary of Wildlife Forever, Senator Amy Klobuchar requested a special flag flown over the United States Capitol on December 10, 2017. Today, that U.S. flag flies proudly over Wildlife Forever's headquarters on Hwy 61 in White Bear Lake, MN, celebrating our nation's freedom and incredible outdoor heritage.

Since 1987, Wildlife Forever has been one of America's leading multi-species nonprofit conservation organizations. Working with federal agencies, state game and fish departments, private conservation groups and corporate partners, Wildlife Forever has been involved with over 2,000 thousand projects in every state in the nation and Canada.

Signature award-winning programs include the Clean Drain Dry Initiative™, educating anglers, boaters, hunters and all recreational users to stop the spread of invasive species, and the State-Fish Art® Contest, a nationwide competition teaching youth aquatic education through the arts. Other historic programs include Racing for Wildlife™ and founding of Theodore Roosevelt Conservation Alliance.


Wildlife Forever believes conservation education will ultimately determine the future of America's fish & wildlife heritage. It is only through education that we will pass on the stewardship of our natural resources to the next generation.

"America is truly blessed; it is a land rich in tradition and natural resources," said Doug Grann, President & CEO. "Much of our identity and culture can be attributed to our natural world. The legacy of our natural resource heritage must be preserved and shared with the next generation. Wildlife Forever is doing its part to ensure that future."

"Wildlife Forever was built by partnerships and individual people who care deeply about the future of fish and wildlife," said Pat Conzemius, Executive Vice President. "Today we say Thank You to those dedicated members, directors and sponsors who continue to invest in conservation and believe in our mission to develop stewardship in the next generation."

About Wildlife Forever® -
Located in White Bear Lake, Minnesota, Wildlife Forever's mission is to conserve America's wildlife heritage through conservation education, preservation of habitat and management of fish and wildlife. For 30 years, members have helped conduct thousands of fish, game and habitat conservation projects across the country. To join or learn more about Wildlife Forever's award-winning programs, including work to engage America's youth, visit www.WildlifeForever.org.


Contact: Pat Conzemius
PConzemius@WildlifeForever.org