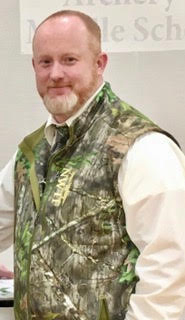 Williamsburg, KY – Scholastic 3-D Archery is committed to educating members about conservation to inspire and generate a future of well-rounded outdoorsmen and women. To further bridge the gap between the competition archery world and the conservation world, S3DA has hired Robert Dunaway as the S3DA National Conservation Outreach Coordinator. Robert will work closely with National Conservation partnering organizations, establish a network of State Conservation Coordinators across the United States, provide virtual or in-person hunting seminars, manage conservation-related activities at S3DA National events, and assist with the implementation of conservation practices at the State and Regional level to guide youth, along with their families and friends, into a lifetime of enjoyment in the outdoors. Dunaway has worked with several major call companies including nine years with Quaker Boy Game Calls, and he is currently a member of the Pro Staff with Cane Creek Game Calls. He retired from Walmart Logistics after 26 years and is currently working with youth at the Appalachian Children's Home.
Robert Dunaway currently resides in Barbourville, Kentucky with his wife, Selina. They have two daughters, Kylie, and Kiersten who are also avid hunters and trappers. Dunaway is a lifelong hunter and outdoorsman that enjoys hunting small game, turkey, deer, and elk, as well as fur trapping. He has been a professional hunting guide for elk and turkey for over 25 years.
Robert Dunaway became aware of S3DA by attending some local sponsored events as well as having friends who are involved in the program. He decided he wanted to work for S3DA because of his passion for archery and teaching others about the sport and importance of the great outdoors. Robert Dunaway states, "My interest in conservation goes marrow deep because I have seen firsthand how dollars spent on hunting are used to bring species like the wild turkey, whitetail deer, and most recently elk, back to the eastern United States along with many other species for our great country. The bottom line is that we have to get more people interested in the outdoors and especially hunting because the one component that cannot be absent in conservation is hunting."
About Scholastic 3-D Archery
Scholastic 3-D Archery (S3DA) is a unique, family-oriented youth archery program which has grown exponentially across the United States as a next-step initiative to follow introductory archery programs. The mission of the Scholastic
3-D Archery program is to foster, educate and guide youth in the areas of 3-D, indoor target, and outdoor target archery as well as safe, ethical bowhunting practices. The goal of the S3DA program is to provide archery and bowhunting opportunities to youth in after-school settings, as well as with archery-affiliated clubs and businesses in the community. S3DA students participate in 3-D and target archery using compound and traditional archery equipment. Students can participate at local, regional, state, and national archery events and earn college scholarships from colleges and universities across the United States. S3DA addresses the need for a program to bridge beginning target archery experience and more advanced activities such as 3-D shooting and bowhunting. The program currently operates across the United States with hundreds of certified coaches serving thousands of young archers, grades 3–12.
Contact the Scholastic 3-D Archery National Office at:
www.s3da.org or 410 Sycamore Street, Williamsburg, KY 40769, Ph: 606.524.3685
Media contact Kayla Bolton at kayla@s3da.org, Ph: 423.494.2204