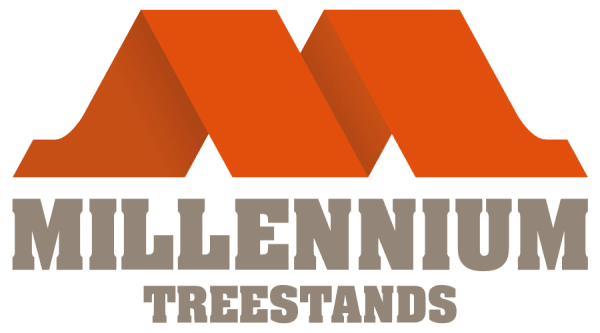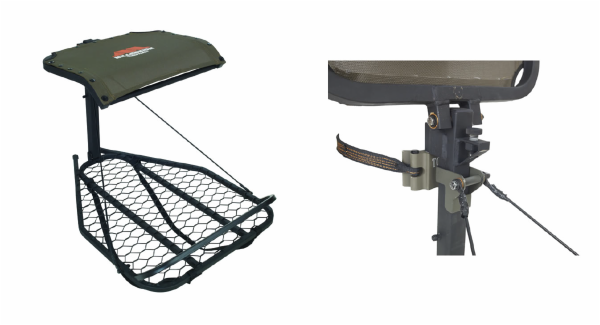 Pictured above: M50 Seat and interlockLEVELING system
Millennium M50 and M25 Hang-On Treestands: Affordable Quality
These two award-winning hang-on stands are
comfortable, easy to set up, built to last and priced
to fit any hunter's budget.

Pearl, MS (March 23, 2020) Treestands for serious hunters are so much more than a simple elevated platform. The best stands today are comfortable enough to sit in all day long, day after day. They're rugged enough to last decades, easy to set up, and once properly hung, super quiet. Just as important, they are built with safety first in mind during every step of the manufacturing process. You get all of this and more with Millennium's award-winning M50 and M25 Hang-On stands.
The M50 Hang-On is built for those who hunt where straight trees are as common as four-leaf clovers. The exclusive Millennium InterlockLEVELING System allows the hunter to adjust both the seat and the platform to be perfectly level, even in a world of imperfect trees. The leveling system, ComfortMAX seat and footrest combine to provide a safe, quiet and comfortable hunt. Like other Millennium stands, the M50 uses the CamLOCK system so moving from one pre-set stand site to another is quick and easy. The InterlockLEVELING system, which requires no tools, gives you the ability to adjust the platform in seconds to different tree stand sites. Once the platform is level, the seat can be adjusted for maximum comfort.
The Millennium M25 Hang-On is comfortable, quiet and easy to set-up, and built for hunters who need a stand that is easy to pack in, yet comfortable enough for an all-day hunt. The M25 folds flat for backpacking (straps included) for long hikes into those off-the-beaten-path hidey holes. Like the M50, the M25 also features Millennium's patented ComfortMAX seat, and the integrated footrest gives the hunter the ergonomic support necessary to hunt dawn to dark. The M25 uses a traditional chain for a rock solid attachment to the tree.
Both stands also feature Millennium's steelTOUGH construction, a durable powder-coat finish, seats that fold up and out of the way when you need to stand, integrated footrest, and a 35' Safelink safety line. Like all Millennium stands, they both meet or exceed the industry standards recognized by the Treestand Manufacturer's Association.
Oh, and about that award-winning thing? Both the M50 and M25 Hang-On stands have won the prestigious Bowhunting World magazine Reader's Choice Gold award as the magazine readers' favorite hang-on tree stand four years running - from 2016-2019.

MSRP for the Model M50 Hang-On stand is $149.99, and the MSRP for the M25 Hang-On stand is $109.99. More information is available at www.millenniumstands.com.
Model M50 Hang-On Specifications:
Material: Steel

Capacity: 300 lbs.

Weight: 20 lbs.

Platform: 24 inches x 33 inches

Seat Size: 20 inches x 16 inches

Seat Height: 21 inches

Model No: M-050-SL

MSRP: $149.99
Model M25 Hang-On Specifications:




At Millennium Outdoors, manufacturers of Millennium Treestands, Ol' Man Treestands, and Millennium Marine, we are committed to ensuring each hunter is able to make the most out of every hunting season, from the big bucks of fall, to the gobblers of spring, and every species and season in between. From innovative hang-on and ladder stands to ground blind chairs and the tripod, our mission is for every season. Millennium's reputation has been built on the comfort, safety, quality and versatility that hunters have come to know and appreciate. More information on all the company's products is available at www.millenniumstands.com.
| | |
| --- | --- |
| For more information, please visit | LIKE US! |