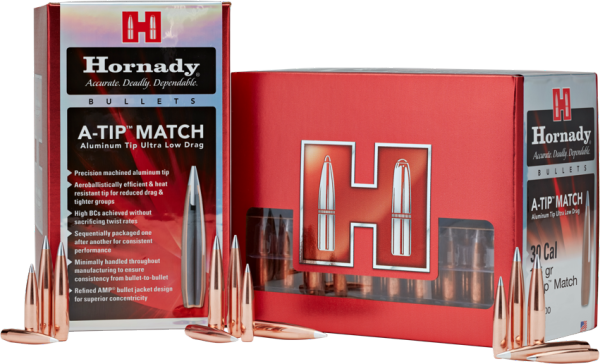 (Grand Island, Nebr.) — Hornady® has received the Guns & Ammo award for Innovation of the Year for its A-Tip™ Match bullets.
The 2019 award winners were chosen by a select group of editors, contributors and staff from Guns & Ammo magazine. The awards were judged based on performance, proven long-term durability, product value and availability to the consumer.
"The A-Tip™ Match is about advancing bullet technology," Guns & Ammo said in its announcement.
Guns & Ammo staff noted that the aluminum tip of A-Tip™ Match eliminates the problem of inflight friction and deformation that affects some polymer-type tips and that the ogive, tip length, bearing surface and boattail are optimized according to caliber.
"Hornady® also considered the A-Tip's jacket and engineered uniformity and concentricity into each bullet," Guns & Ammo said. "This level of precision and accuracy in bullet manufacturing and downrange performance has never been seen by hand loaders or precision rifle shooters. It's a win."
"When it comes to long-range shooting, consistency across the board is king," said Jayden Quinlan, Hornady® lead ballistic engineer for A-Tip™ Match. "From a design standpoint, on these bullets, we've spent a ton of time and effort in making every aspect of them consistent."
That consistency has already paid off in wins on the competitive shooting circuit.
"Six of the top 10 shooters in the Open Division of the Precision Rifle Series points race chose A-Tip™ for the PRS Finale," noted Jason Hornady, Hornady® vice president. "But being honored for Innovation of the Year by the experts at Guns & Ammo really acknowledges the years of research and testing we've put into bringing this level of performance to the shooting public."
Guns & Ammo presents awards for firearms, optics, ammunition, suppressor and innovation. To protect the credibility of the awards, no manufacturers, advertisers or sales representatives were invited into the selection process.
A-Tip™ Match bullets feature an aluminum tip that's precision machined and longer than polymer tips. That moves the center of gravity and enhances inflight stability, resulting in tighter groups and reduced drag variability. In addition, A-Tip™ bullets are sequentially packaged for the ultimate in consistent performance.
Founded in 1949, Hornady® Manufacturing Company is a family-owned business headquartered in Grand Island, Nebraska. Proudly manufacturing products that are made in the USA, Hornady® Manufacturing is a world leader in bullet, ammunition, reloading tool, accessory and security product design and manufacturing.
For further information regarding Hornady® products, visit the company web site at http://hornady.com.