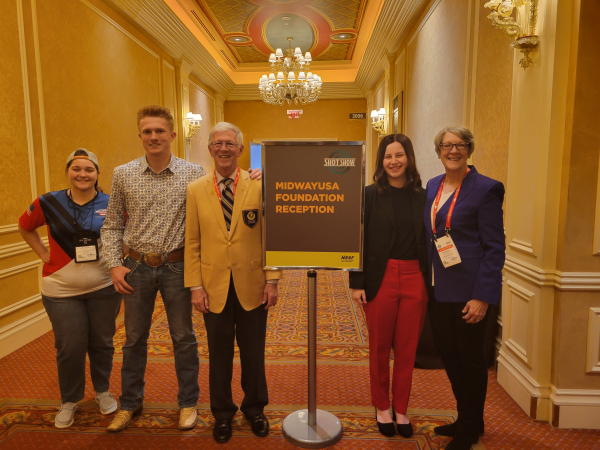 Larry and Brenda Potterfield with top youth shooting athletes, Makayla Scott (left), Grayson Stuart, and Kyleigh Kozel (right).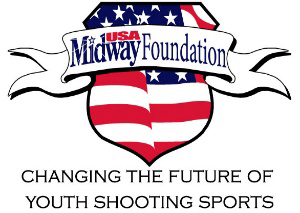 Columbia, MO – The leading advocate for youth shooting sports, MidwayUSA Foundation, recently held its first event at NSSF's 2023 SHOT Show. Over 100 supporters gathered on Wednesday, January 18, for a reception to share ways the industry can support youth shooting sports. In attendance were corporate and industry partners, top youth shooting athletes, and guest speakers, Larry and Brenda Potterfield. "Having been to many events at SHOT Show over the years, I felt MidwayUSA Foundation knocked it out of the park. It was great to hear young shooting athletes share their stories and be recognized," said Jon Zinnel of Federal Premium, CCI, Remington, & HEVI-Shot Ammunition.
The strong industry support didn't stop at attendance. Wildlife for Tomorrow, of Arizona, and SKB Shotguns both provided generous donations at the event. SKB Shotguns is a longstanding sponsor of MidwayUSA Foundation and donated $10,000 from accessory sales, an annual program they specifically created to benefit youth shooting sports.
Wildlife for Tomorrow, a 501(c)(3) nonprofit organization that works closely with the Arizona Game and Fish Department, presented Larry and Brenda Potterfield, founders of MidwayUSA Foundation, with a check for $319,500 to benefit youth shooting teams across Arizona. Currently, 49 youth shooting teams in Arizona hold an endowment with MidwayUSA Foundation.
"Collaborating with both industry leaders and conservation partners will create more opportunities for our youth through shooting sports. Youth target shooters are THE key to preserving and growing our outdoor industry," added G. Scott Reynolds, MidwayUSA Foundation Executive Director. Learn how your business or organization can partner with MidwayUSA Foundation to fund young shooting athletes across the nation by contacting John Linquist, Relationship Manager (jlinquist@midwayusafoundation.org).
The MidwayUSA Foundation is a 501(c)(3) public charity working to sustain and grow youth shooting sports by providing long-term funding to youth shooting teams. Every donation made is tax-deductible and allows the Foundation to assist in expanding and enhancing the leadership skills, confidence, and discipline of today's youth through shooting sports activities. The Foundation supports all shooting disciplines. For more information about how the MidwayUSA Foundation is changing the future of youth shooting sports, please visit midwayusafoundation.org or call 1-877-375-4570.