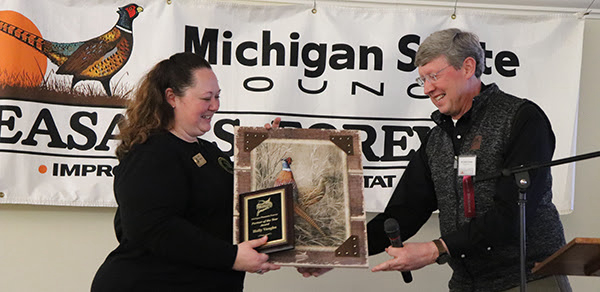 Michigan Pheasants Forever regional representative Bill Vander Zouwen presents DNR Public Outreach and Engagement Unit manager Holly Vaughn with the organization's 2019 Partner of the Year award. (Photo credit: Julie Griswold)
At the Michigan Pheasants Forever State Convention Feb. 1, Department of Natural Resources Wildlife Division Public Outreach and Engagement Unit manager Holly Vaughn was honored as the organization's 2019 Partner of the Year.
"Holly is extremely valuable to our joint mission of restoring and managing grasslands for all the values they provide to the wildlife, fish, invertebrates and people of Michigan," Michigan Pheasants Forever region representative Bill Vander Zouwen said during the award presentation.
Vaughn has played an important role in sharing the value of grasslands with Michiganders. Grasslands are critically important wildlife habitat for species like pheasants and other grassland birds and pollinators such as the monarch butterfly. Grasslands also provide people with recreational opportunities like hunting and bird watching as well as healthy soil and clean water.
The development of the Adopt-A-Game-Area Program benefited from Vaughn's expertise in creating marketing and educational materials and promotion of the program. The program allows individuals to make donations to sponsor projects on state lands that provide vital habitat for a wide range of wildlife.
"We are thrilled that Vaughn was honored for all her work in promotion of grassland habitats and restoration work going on throughout the state," said acting DNR Wildlife Division Chief Dan Kennedy.
Vaughn also has coordinated promotion of the Michigan Pheasant Restoration Initiative and accomplishment reports to outline the initiative's successes.
The Michigan Pheasant Restoration Initiative is a conservation initiative to restore and enhance Michigan pheasant habitat, populations, and hunting opportunities on private and public lands. The initiative works by acquiring state and federal resources to assist landowners in to improve wildlife habitat on their properties and by improving habitat on selected state game areas, recreation areas or other public lands. Learn more at Michigan.gov/Pheasant.