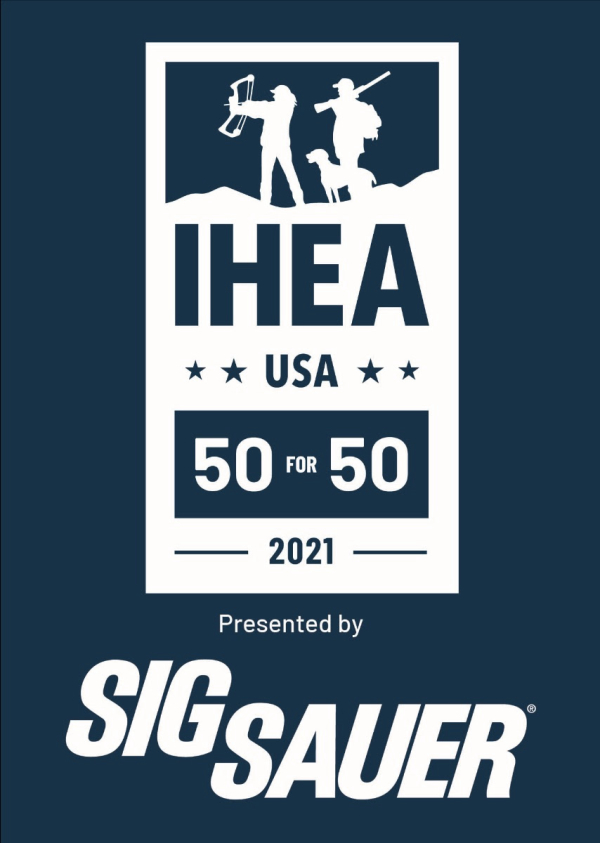 In honor of its 50th Anniversary, the International Hunter Education Association – USA is launching a "50 for 50 Award" at its first-ever virtual conference in May, and SIG SAUER has stepped up to sponsor this unique award.

With over 55,000 volunteer instructors in the United States (the second largest volunteer corps to volunteer firefighters) vying for the award, the 50 for 50 Award honors one hunter educator in each state for rising above and beyond their normal duties in 2020. Many Hunter Educators not only teach Hunter Education but are also aggressively proactive in R3 initiatives and mentorship in their areas. The 50 for 50 Award seeks to recognize and honor those individuals.

Alex Baer, Executive Director of the IHEA-USA, states, "We will never be able to give enough credit to these volunteers in the field that offer massive amounts of personal time to not only teach safe hunting techniques, but also ensure that new hunters feel welcome and have an opportunity to experience the emotions that accompany successful days in the field. We are very excited to award them for their hard-earned efforts."

"I've always had a tremendous passion for Hunter Education," states Tom Taylor, CMO/EVP Commercial Sales for SIG SAUER. "With Sig's expanded hunting line and especially the newly introduced Cross Rifle, it's the perfect time for us to be able to step up and recognize the sacrifice that volunteer Hunter Educators make for the long-term viability of the hunting community."

The 50 for 50 Awards will be presented at the upcoming IHEA-USA Virtual Conference scheduled for the afternoons of May 19th and 20th. This fast-paced conference features keynote speakers Lanny and Tracy Barnes, former Olympic Biathlon athletes, avid 3-gun shooters and hunters. The line-up of sessions includes virtual tours of new shooting ranges, online education on field first-aid training, looks at COVID-19 impacts on Hunter Education, and much more.
About the IHEA-USA: The International Hunter Education Association – USA (IHEA-USA) is the professional hunter education association affiliated with the Association of Fish and Wildlife Agencies and the United States Fish and Wildlife Service hunter education programs. These programs employ 55,000 instructors, many of whom are volunteers, teaching hunting and shooting safety and responsibilities throughout the United States.