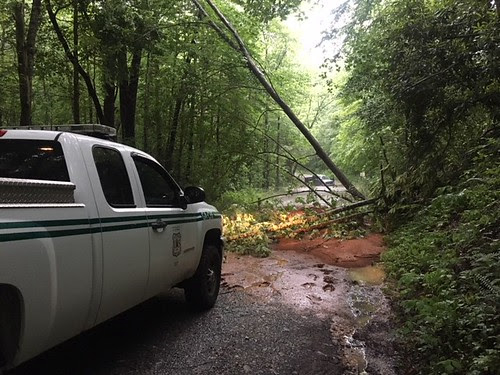 A 2018 storm caused flooding and hazardous trees to block a road on the Chattahoochee-Oconee National Forests.
GAINESVILLE, GA – The Chattahoochee-Oconee National Forests is closing several low-lying recreation sites in the predicted path of Tropical Storm Sally beginning today, Thursday, September 16. The sites will remain closed until the storm passes and sites are safe for visitors. A Hazardous Weather Outlook has been issued for areas of the national forest.
Our highest priorities are visitor and employee safety. The Forest Service is advising visitors to avoid the forest during hazardous weather for personal safety and to prevent further stress on emergency responders who may not be able to quickly respond to emergencies because of conditions that limit access or create safety hazards.
Low-lying areas are especially vulnerable to rapidly rising and swift water. These areas should be avoided during and after major storm events. Excessive rain and high winds have the potential to create high water, flash floods, falling trees, mudslides, and severe damage to roads. Our national forests are heavily wooded, remote and mountainous, making the potential for hazardous conditions significant. Trees falling or large limbs breaking off are common occurrences during storm events.
Temporarily Closed Sites (subject to change):
Forest System Roads:
Please visit the Recreation Condition Report to learn the current status for developed recreation sites: www.fs.usda.gov/recmain/conf/recreation.
Remember, your safety is your responsibility. As always, please keep yourself, others and our responding personnel safe by making thoughtful decisions, staying aware of weather conditions, and heeding the advice of your local and state authorities.
Stay connected with us to view alerts related to possible hazards and additional closures on the Chattahoochee and Oconee National Forests on Facebook and twitter @ChattOconeeNF and on our website at www.fs.usda.gov/conf.
Stay safe! We are thinking of you during this time, and appreciate your understanding.