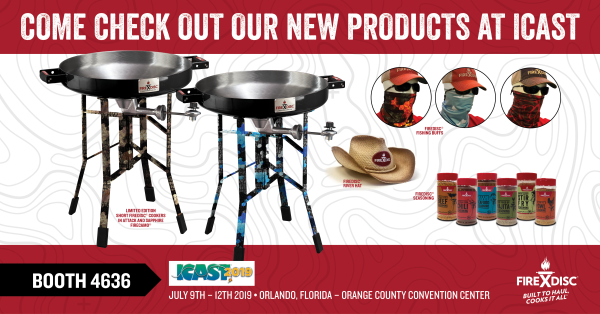 Katy, TX – FireDisc®'s latest innovations and increase in product has landed them at this year's ICAST 2019 Fishing Trade Show in Orlando, Florida. With several new products arriving, FireDisc® is thrilled to be at the biggest fishing trade show of the year. ICAST is the world's largest sportfishing trade show and is the premier showcase for the latest innovation in fishing gear, accessories, and apparel.

FireDisc® will be located at the Orange County Convention Center from Tuesday, July 9th to Friday, July 12th at booth 4636. Be sure to stop by FireDisc®'s booth to catch up with co-founders, Hunter and Griff Jaggard, be introduced to the latest products, and relish in great demonstrations on the one-of-a kind FireDisc® cooker!

Featured New Products Include:
- Limited Edition Short FireDisc® Cookers in Attack and Sapphire FireCamo®
- FireDisc® Seasonings
- FireDisc® River Hat
- FireDisc® Fishing Buffs
- FireDisc® Fish Key

Hunter and Griff Jaggard have shaped FireDisc® into the nationally recognized company it is today under their strategic leadership and new innovative products.Their goal with these new products is to further capitalize on durable, portable technology. Moreover, they seek to innovate the FireDisc® brand as a true leader in portable propane cookers with a proven track record among chefs, avid outdoorsmen and backyard enthusiasts across the country.

"With more than 15,000 individuals and 682 exhibitors, the ICAST Trade Show provides great opportunities to show our latest products and engage with other outdoor enthusiasts. We are excited to be in attendance and a part of this year's ICAST trade show," said Griff Jaggard, Co-Founder and President of FireDisc®.

About FireDisc® Cookers:
Texas-based FireDisc® Cookers specializes in the design and manufacturing of the world's most the innovative, high-quality and versatile outdoor grills and accessories. The company was founded by two entrepreneurial brothers, Griff and Hunter Jaggard, who, armed with a makeshift tractor plow disc set out on a mission to build a grill worthy of everyone from the world's top chef's to hunters, backyard family grill masters, tailgaters, rvers and campers. FireDisc® Cookers products are currently sold nationally via 700+ retail locations in 44 states and online throughout the globe.

Heavy-duty carbon steel construction renders the cookers indestructible, while meticulous designs yield convenient portability and ease-of-use. A rigorous "Chef-tested/Chef-Approved" quality assurance program enables the cookers to deliver unmatched grilling characteristics, as they have been vetted by some of the world's leading chefs. Prior to their launch of FireDisc® Cookers, the founders formed a non-profit to raise money and find a cure for Multiple Sclerosis. To date $1M has been raised via "The Carney Men" Bike MS team. Community involvement is the core of the FireDisc® brand in addition to the National MS Society they are proud supporters of the American Cancer Society and many more. For more information visit http://www.firedisccookers.com.
Media Contact: Lianna Ybarra
lianna@aguillon-associates.com; 210.254.9160