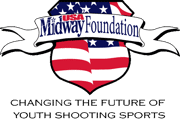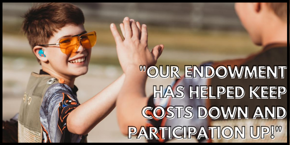 Columbia, MO - Giving Tuesday, December 1, is the biggest fundraising day of the year for non-profits across the globe. On this day, MidwayUSA Foundation (Foundation) has set a goal to raise $175,000 for youth shooting sports. To ensure every dollar donated goes further, they will offer $175,000 to match the day's contributions to youth shooting teams and organizations. These matching dollars are possible because of the generosity of Larry and Brenda Potterfield.

New this year is an incentive to award participating shooting teams. The top five fundraising teams of the day will earn additional endowment funds ($5,000/$4,000/$3,000/$2,000/$1,000), and another ten participating teams will be randomly drawn to win $500 each. Nearly 3,000 youth shooting teams have an endowment with MidwayUSA Foundation, and every team can receive online donations right through MidwayUSAFoundation.org. Searching for a shooting team is easy, and donations are safe and secure. Every donation made to a MidwayUSA Foundation team endowment is tax-deductible. There are no fees removed, and 100% of the donor's gift benefits that team directly. The Foundation keeps nothing for operations.
Every donation to a shooting team's respective endowment grows that team's annual cash grant. Cash grants provide crucial funds to offset the many expenses youth shooting teams incur. Covering the cost of ammunition, competition fees, targets, or travel can allow more young athletes the chance to participate in shooting sports. Many shooting sports athletes become future hunters and conservationists too. An investment in youth shooting sports is an investment in the entire outdoor industry.
The MidwayUSA Foundation is a 501(c)(3) public charity working to sustain and grow the shooting sports industry by providing long-term funding to youth shooting teams. Every donation made is tax-deductible and allows the Foundation to assist in expanding and enhancing the leadership skills, confidence, and discipline of today's youth through shooting sports activities. The Foundation supports all shooting disciplines. For more information about how the MidwayUSA Foundation is changing the future of youth shooting sports, please visit MidwayUSAFoundation.org or call 1-877-375-4570.