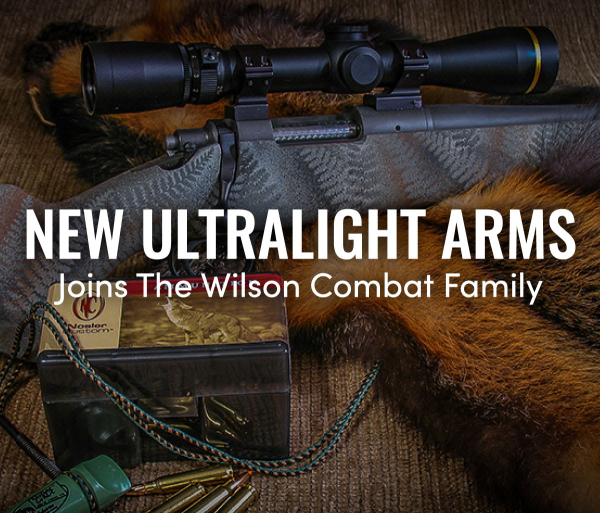 [Berryville, Arkansas]

Bill Wilson is proud to announce the acquisition of the assets of New Ultralight Arms, LLC in Granville, WV. Melvin Forbes' New Ultralight Arms (NULA) has been the leader in high quality, extremely lightweight bolt rifles since 1985 and is a perfect fit for the Wilson family of companies. Prior to Melvin's NULA rifles, an accurate 5# rifle chambered in one of the .308 family of cartridges was considered impossible.

Production of NULA rifles will relocate from West Virginia to the Wilson Combat plant in NW Arkansas in the coming months. Initial product offerings will be the Model 20S (chambered in .223 Wylde, 300 HAM'R and .350 Legend) and Model 20 (chambered in .243 Win, 6.5 Creedmoor, 7mm08 Rem, .284 Win and .308 Win). With further plans to extend offerings to include Model 24 (chambered in .270 Win and .30-06) and Model 28 (chambered in 7mm Mag and .300 WM).

We are pleased that Melvin will be supplying us with all the necessary technical advice needed for a seamless transition, continuing his legacy of building the highest quality, lightest weight rifles on the market. Melvin plans to continue to be available to discuss his fine "Melvin" rifles over the phone. Together with Melvin and Bill, and our skilled gunsmiths and machinists
will perfect the proven techniques required to achieve the highest quality and performance standard of these fine rifles.

New Ultralight Arms will join Chip McCormick Custom, Circle WC Ranch, Khumba Bush Camp, Lehigh Defense, Scattergun Technologies, Wilson Custom Ammunition and Wilson Combat that make up the Wilson family of companies.

For more information about Melvin Forbes and the NULA rifle legacy please visit newultralightarms.com or contact Tressa Joubert, Director of Marketing, 870-545-3618, ext 104 tressa@wilsoncombat.com

Wilson Combat plans to allow pre-order of the NULA line following announcement with estimated first production delivery in late fall of 2022. Please contact Wilson Combat Customer Service at 800-955-4856 for order inquiries. www.wilsoncombat.com
About Wilson Combat®
Headquartered in Berryville, Arkansas since 1977, Wilson Combat is an industry leader in high-quality firearms for self-protection, law enforcement, military, and recreational use. Wilson Combat manufactures cutting edge handguns, rifles, shotguns as well as firearm accessories, and ammunition. Visit www.wilsoncombat.com for more information.