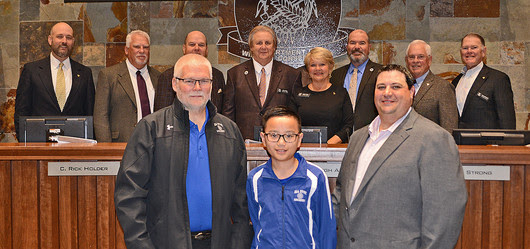 Members of the Oklahoma Wildlife Conservation Commission and ODWC Director J.D. Strong (back row) stand to recognize Northmoor Elementary archery coach Ed Fowlks, national third-place archer Ethan Do, and ODWC Archery in the Schools Coordinator Kelly Boyer. (Don P. Brown/ODWC)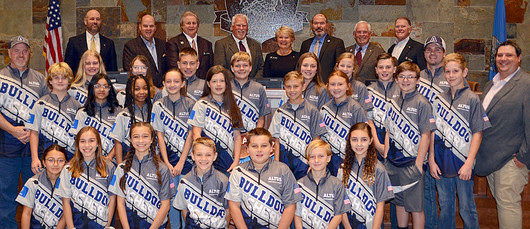 Members of the Oklahoma Wildlife Conservation Commission and ODWC Director J.D. Strong (back row) stand to recognize students in the state and national champion Altus Elementary archery team with coach Jerry Hamersley, (left) coach Jeremy Atteberry (behind right), and ODWC Archery in the Schools Coordinator Kelly Boyer (far right). Students are, front from left, Samara Stevens, Cassy Wright, Layla Rubio, Carden Wright, Jaxon Konen, manager Ryker Tims, Emma Braker; middle from left, Gavin Graves, Valerie Nunez, Shaziya Massenburg, Savannah Roberson, Brenna Duncan, Lincoln Stafford, Kyler Hawthorne, manager Pepper Osbourne, Brody Langham; third row from left, Emma Morley, Caroline Sims, Riley Penney, Ketcher Lamb, Kaprie Craddock, Melyn Bush, Cade Abernathy. (Don P. Brown/ODWC)
During their regular November meeting, Oklahoma Wildlife Conservation Commissioners congratulated state students who performed impressively in national and state archery tournaments in 2021.
The Altus Intermediate Elementary Archery Team 1, along with coaches Jerry Hammersley and Jeremy Atteberry, were recognized as both the champions of the Oklahoma Grand State Shoot along and champions of the 2021 National Archery in the Schools (NASP) national competition. Kelly Boyer, OKNASP coordinator for the Oklahoma Department of Wildlife Conservation, said the Altus Intermediate Elementary team bested 132 other teams to win the national title.
Also honored was Ethan Do of Northmoor Elementary School in Moore, who was a member of the third place team in the Oklahoma Grand State Shoot, then went on to place third place individual out of 1,905 competitors in his division in the national archery shoot.
Several other Oklahoma archery teams and individual archers also took high honors in the national virtual competition, Boyer said. Full results can be found on the NASP tournament website. Oklahoma's NASP program is among a suite of outdoor educational programs fostered by the Wildlife Department in hundreds of schools across the state. The programs include Fishing in the Schools, Archery in the Schools, Explore Bowfishing, Explore Bowhunting, Oklahoma Scholastic Shooting Sports Program, FFA Shooting Program, and Varsity Archery.
Also, Commissioners recognized ODWC employees recently honored with national and international awards, and ODWC employees who graduated from the agency's Leadership Development Program.
Communication Section Supervisor Kelly Adams received the Mark J. Reeff Memorial Award from the Association of Fish and Wildlife Agencies, recognizing the outstanding young wildlife management professional under age 35. Education Senior Specialist Lance Meek received a Special Recognition Award from the Southeastern Association of Fish and Wildlife Agencies for his innovations in hunter education.
Game Warden Kenny Lawson, based in McCurtain County, received the Shikar-Safari Club International's Oklahoma Conservation Officer of the Year Award from Shikar-Safari member Robin Siegfried.
Josh Richardson, Wildlife-Private Lands Supervisor, was recognized for his 12 years of service on the Waterfowl Technical Committee and in several other capacities by the Central Flyway Council.
Graduates of Cohort 2 of the Leadership Development Program are Jason Adair, Joe Alexander, Jared Cramer, Tony Crawford, Colby Farquhar, Daniel Griffith, Josh Richardson, Tyler Howser, Ben Haff, Spencer Grace, Emily Long, Kody Moore, Ben Bickerstaff, Heather Del Moral, Blake Podhajsky, Shane Fields, Kristen Gillman, Mark Hannah, Kelly Adams, Eric Suttles, Marni Loftis, Ashley Nealis, Marvin Stanley, and Chris Whisenhunt.
In other business, the Commission:
Received a summary report on the prospects for this year's quail and pheasant seasons from Upland Game Biologist Tell Judkins.
Heard updates on this year's activities at the Paddlefish Research Center near Miami, Okla., from PRC Director Brandon Brown, and on paddlefish research and conservation activities from Senior Fisheries Biologist Jason Schooley.
Recognized John Weir of the Oklahoma Prescribed Burn Association, winner of the Oklahoma 2021 Firebird Award from the National Bobwhite Conservation Initiative for his support of burning to improve wildlife habitat.
Received regular updates from ODWC Director J.D. Strong on activities in various divisions since the previous meeting.
Go online to https://youtu.be/qpVQ37UYRrI to view a video recording of the meeting.
The next regular Commission meeting is set for 9 a.m. Jan. 3, 2022, at the John D. Groendyke Wildlife Conservation Building, 1801 N. Lincoln Blvd., Oklahoma City.