Despite lockdowns and mandatory closures' slow disappearance across most of the country, many people still aren't confident about travel. At least not the way we enjoyed it before the pandemic.
"Before the pandemic" is in italicized, because it's destined to become one of those markers we drop into history.
Life, after the pandemic, even in areas that saw little, if any, impact, will change.
How much, and for how long, remains to be seen. But the historical implication is inevitable.
There's absolutely no doubt about that in the travel industry. One of the hardest hit, airlines are down to bare bone service levels, hotel chains are struggling, and last week's bankruptcy filing by Hertz tells the story for rental car companies.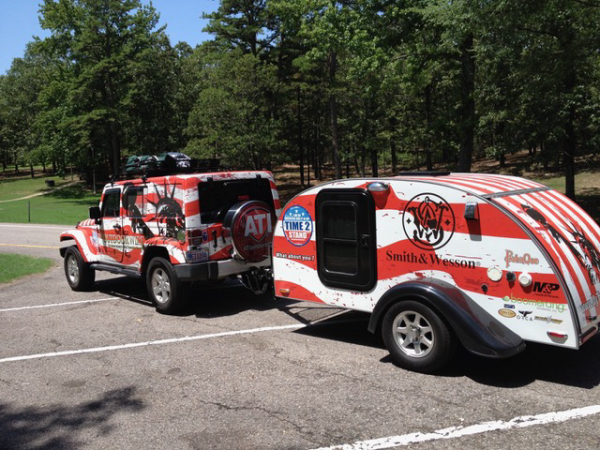 Despite those current issues, or fears of contracting the virus, many more Americans are returning to travel. Some have no choice, their work requires it. Others have weighed the alternatives, and believe with appropriate safety adjustments they can begin to travel safely again.
But they may change how they choose to travel. Infection concerns could lead to the choice to spend more time in transit over extended time in contact with others.
In other words, they may be hitting the "great American road" instead of queueing in airline terminals, especially on shorter duration trips.
Additionally, slow resumption of recent cutbacks in air service, limited seating on the planes, and social distancing rules in airports make day drives more favorable that any time in recent memory. Low gas prices don't hurt, either. Especially if you're traveling at your own expense.
The choice to drive versus flying won't be eye-opening to many of you.
Gun owners or hunters already know about additional hassles. Checking firearms, combined with ever-shrinking seats and amenities, already made single-day drives your choice (plus you decide what -and who- goes into your vehicle). Coronavirus may add a new wrinkle to everyone's travel planning.
We're already seeing adaptation, from the resurgence of drive-in movies to drive-in worship services (with drive-by communion), drive-through fresh markets, and drive-up pick-up of things bought online at local stores.
And don't forget, America invented the automobile, and the romance of travel via car.
OK, it's not good news for the airlines, Amtrak, or other public conveyances, but having made a solo drive across the United States, camping the entire way, I know long road trips can be life-changing. Seven years after meeting strangers in Missouri, we're close friends. Can't say that about anyone I've ever met on an airplane.
We're all adapting. And having to adapt always leads the return to the simplest way of doing things.
Again, nothing new for outdoorsmen, but an eye-opening experience for a majority of the younger generations.
Today, there simply aren't as many of us who take self-reliance as a given.
Last week, the first consumer research I've seen regarding a potential change in family travel habits came from Thor Industries (NYSE: THO). Thor's recreational vehicle holdings include AirStream, CrossRoads, Cruiser RV, Dutchmen, Entegra Coaches, Heartland, Highland Ridge, Jayco, Starcraft, Thor Motor Coach and others. They're the world's largest RV manufacturer.
And that diversity means they talk to consumers across the spectrum of RVing, from popups to land yachts.
Their new study, the 2020 THOR North American RV Consumer Survey Report can be downloaded here.
It lays out a pretty sold case for an assumption that while Americans will be traveling, they're considering travel options, especially for vacation and family trips. From the type vehicle they choose to their destination when they arrive (or where they might stop en route), the landscape appears to be changing.
Americans will likely returning to staples of uncertain economic times: the staycation (a stay-at-home vacation) or mini-vacations with shorter distances and durations taken more frequently (think day tripping with an overnight component).
Thor's North American RV Consumer Survey Report talked with 20,000 randomly selected RV owners or prospective owners across their brands, and included questions about everything from cancelled travel plans to travel intent in 2020.
What it found was that RV owners will be hitting the road this year.
Ninety four percent of them, in fact, are planning vacations. A majority, however, are planning those vacations for October or later, not during traditional travel peak times.
The coronavirus may well bring an uptick off-peak or shoulder bookings, in essence, an extension of the camping season. That's good news for state and national parks that suffered serious economic hits with spring's mandatory shutdowns.
Not surprisingly, more RV owners will be using their RVs when they vacation. Seventy nine percent say they'll be using it "as much or more" than in 2019. More than half (56%) of them say they'll be taking weekend trips, although fifty-eight percent say they're still planning at least one week-long trip.
Potential purchasers may have been impacted by the economic downturn, but half of potential buyers say they still plan to purchase- likely in May-August. More than half of those (58%) say they're open to virtual purchasing, i.e., shopping and touring units online. That's a realization that lends itself to RV dealers broadening their potential sales footprint far beyond their normal boundaries.
"Our research supports that consumers understand that the RV lifestyle is a great way to social distance, create unforgettable family experiences, and get away and recharge," says THOR President and CEO Bob Martin, "We believe the best way to get outside for some enjoyment and adventure in a safe way is in an RV. The data shows that consumers agree."
During the last recession staycation became the synonym for "can't really afford to travel." But it also led to a resurgence in camping, hiking, fishing, and other outdoor recreational activities that could be enjoyed without travel and on a budget.
As was the case then, it's not good news for resorts or even VRBO or Air BnB owner/operators today.
Many are nervous about staying in mega-resorts or privately-owned homes, regardless of their amenities. They're making other plans, including considering alternatives to normal vacations.
Concerns, from how long a virus can survive on soft surfaces to the problems involved in maintaining social distancing in restaurants and resorts are new concerns being factored into their considerations.
Today, the fear isn't travel, it's fellow travelers.
As we learn more, as always, we'll keep you posted.
—Jim Shepherd