Outboards are getting weird.
We have been deluged the past couple of years with outboards that sound more like sewing machines than boat motors, and that don't burn good old Texas crude refined in Louisiana, but instead are charged by big white fans spinning on the Kansas prairies and by massive solar panels sucking up Florida sunshine, pouring the energy into batteries made from Chinese lithium and cobalt from Congo. The whole chain is not yet a very energy-efficient or environmentally-friendly process at this point, but they tell us that it will be down the road.
Now even Yamaha is producing an electric drive, something called the Harmo, all touchy-feely sounding.
The Harmo is an electric outdrive with a 15-inch-diameter, four-blade, aluminum impeller that's powered by a 3.6-kW motor. It weighs just 121 pounds and produces 225 static pounds of thrust, which is the equivalent of a 9.9-hp gasoline outboard, per the company.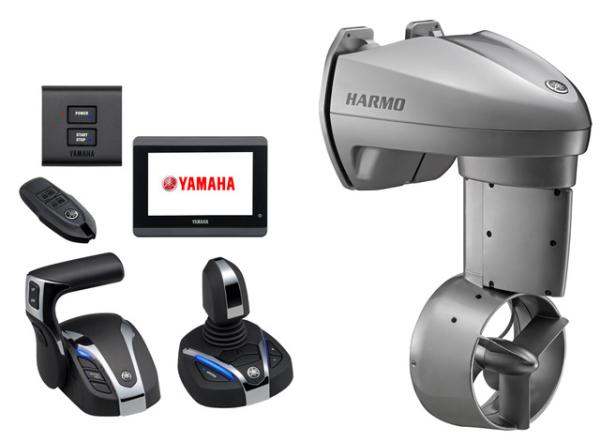 While the Harmo resembles a sterndrive, it's actually a very short outboard—it's self-contained outside the transom. The upper part of the motor is fairly wide, but the housing is mostly for styling.
If the casing conformed to its contents, the Harmo would look a lot like a trolling motor on steroids. It only contains a steering actuator, lower unit supports and the necessary wiring harness.
The motor can tilt 74 degrees upward to clear the water and prevent marine growth.
Now BRP, which shut down the venerable Evinrude brand—the original U.S. outboard--a few years back due to slumping sales, has introduced a gas outboard that has no visible powerhead above decks.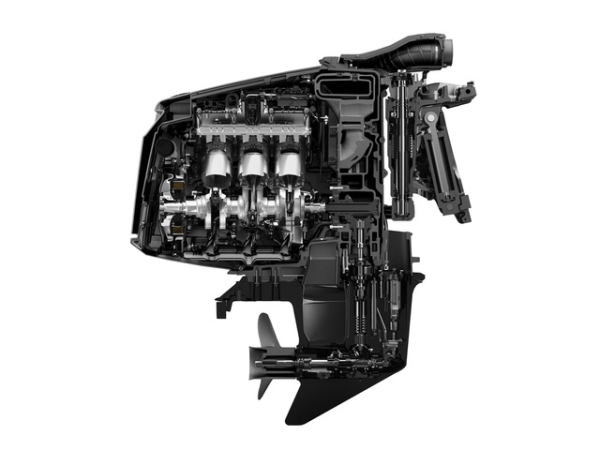 The Rotax engine (varieties of which are used in the company's Rotax two-cycles in all sorts of powersports) is set under the aft deck, with a truncated, sealed powerhead that draws in air from a snorkel above deck.
The company says that the three-cylinder, 1.9 liter (116 cubic inch) displacement motors, available in 115 and 150-hp models, gets 20 percent better fuel economy than competing outboards, a 12% reduction in overall emissions and a 98% reduction in carbon monoxide at idle.
The motors are naturally quieter due to being under the aft deck. And of course it takes away that obnoxious engine cowling that always seems to be in the way when you're trying to land a big fish.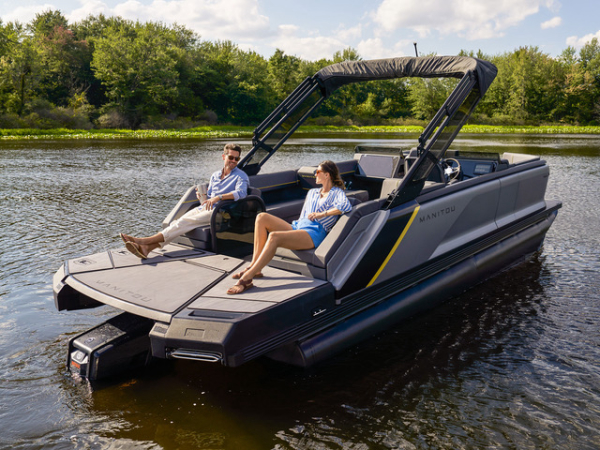 Availability will initially be exclusive to BRP boat brands Alumacraft, Manitou and, in Australia, Quintrex, according to BRP. The Rotax outboard will first be offered on Manitou Cruise and Explore pontoon models from 20 to 26 feet long, which can be equipped with a MAX Deck platform that Manitou says adds 38 square feet of usable space not available with conventional outboard design.
Alumacraft will offer the Rotax outboard option for its redesigned Competitor and Trophy fishing models, with the option of adding its version of the MAX Deck, which adds 25 square feet of space aft.
The design is surely a head-turner, and might have special appeal for anglers who troll a lot, like salmon, Chinook and walleye anglers who don't want that powerhead in the way. It also adds eye appeal to the modern class of pontoon boats Manitou is building.
Accessing the powerhead from the boat will be a bit problematic with the boat in the water, obviously. However, since this is a two-stroke, there's no need for regular oil level checks—two-stroke oil is supplied from a separate tank inside the boat.
There's no dealer scheduled maintenance requirements for the first 5 years or 500 hours. And of course there are no oil changes as with four-strokes. On the other hand, you do have to keep adding oil to the oil reservoir, but modern two-strokes use very little lubrication compared to older models.
In any case, while the "real" V6 and V8 outboards we all love continue to burn petrol, it's clear that the writing is on the wall. Somewhere not too far down the road, it's likely that most power for our boats will be delivered with a quiet hum rather than a throaty roar.
-- Frank Sargeant
Frankmako1@gmail.com