USA Shooting ended its impressive Olympic run-on Monday failing to qualify for finals of either the Men's 25m Rapid Fire Pistol or the Men's 50m Rifle 3 Positions. But they were two of the very few times the team wasn't in contention for a medal in the 12 days of competition. The team is bringing home the most medals since the 1920 Antwerp games: three gold's, two silvers and a bronze.
It was a notable display, with patience and grit the key components to an American squad that was full of rookies to Olympic competition. They will all most likely be part of the 2024 squad that competes in the games in Paris.
"This team has bounced amazingly well," Shotgun Coach Jay Waldron said of the team. "Everything that has come at them with the COVID delay, not knowing and the last-minute changes of everything, how everyone has just learned to bounce and to take things as they come."
Coming out of the Rio games in 2016, USA Shooting left the Brazilian hot spot with two medals, both in Women's events, Virginia Thrasher gold in air rifle, and bronze for Kim Rhode in skeet.
It was clearly a letdown and had to make the focus even more acute at the headquarters in Colorado Springs.
For Vincent Hancock, going to Rio as the favorite and then not even making the finals, not only left a bad taste in his mouth having won gold in Beijing and London, so Hancock looked for payback in Tokyo.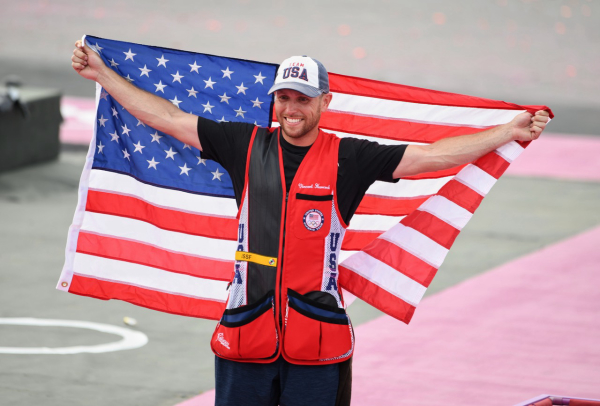 "In Rio there were a lot of different things going on that I let get to me and I just wasn't in the right frame of mind," Hancock said after capturing the skeet competition and his third gold medal. "Coming into here, I knew that I had the chance to do it, I knew that I could do it and I was enjoying every moment I had."
Hancock at 32, is the undisputed leader of this team and his efforts to win the skeet competition was inspiring and a catalyst for the rest of the group to build on.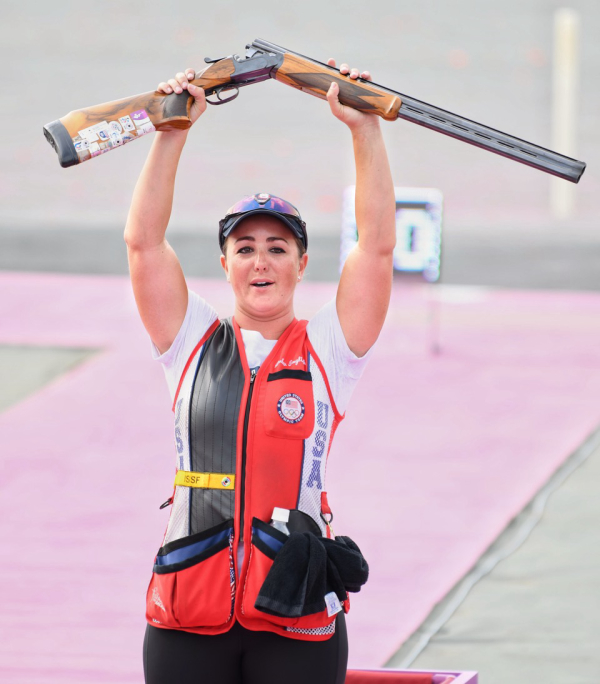 "Vinny has been a huge inspiration for me, as well as a huge asset to our team," Amber English said of Hancock. "His pieces of advice are good for me. Before the Games we spent a lot of time and could train together."
English would also explain how Hancock's mental lapse, that almost cost him an appearance in the finals and then his ability to regain composure and then shoot almost perfectly in the finals was an inspiration to her as she seemed to control her finals just as well.
Everyone on the USA team has a story, most of them positive ending in a medal or at the very least an appearance in the finals, but even the ones that didn't fare so well, will tell you that the experience was both disappointing and positive, but at the same time a hug learning experience.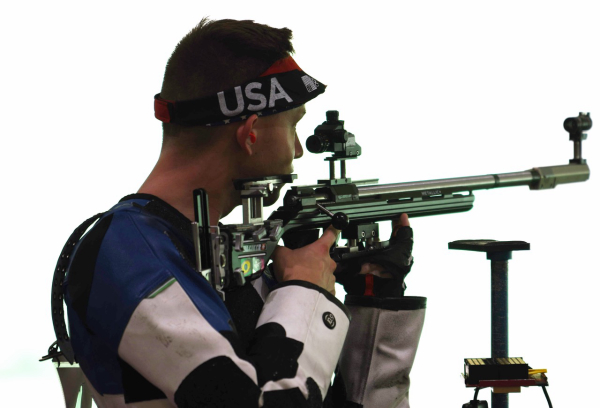 "I fought really hard all the way to the end, I did the best I could," Patrick Sunderman said after finishing 12th in the Men's three position 50 m rifle. "I learned a couple of things; I'm going to go back home and regroup and come back fiercer next time."
When asked about Paris, Sunderman was clear, "I'm not done." Which seemed to be the position of both medal winners and those not at fortunate.
In a sport where one or two points out of hundreds can mean the difference of making the finals or not, or getting medal or not, all the learning and work is trying to find a way to get an extra point or two in a stage of 50 or 100 attempts.
While everyone in the sport knows the reality, the constant living with it makes what the USA did in Tokyo even more special.
"There is no one else to blame but yourself," Waldron said. "There's no rock to hide behind, there's no pitcher to blame, there's no star player and it all about you and your success and your failure."