Growing up in the "hills and hollers" of Kentucky, I'm likely more appreciative than some of a good story. Sitting around the fireplace in my grandmother's store in Gravel Switch, I had no idea that the love of storytelling would become a large part of my adult life. Granted, reporting doesn't allow for the "enrichments" that make storytelling so effective, reporting substitutes the idea of being first to report a story where being the best teller of the story would go in storytelling.
Today, you're getting an exclusive story -and a holiday suggestion from a great story teller. A two-fer, if you will.
Yesterday, an email from a reader asked if we'd be "interested in writing an article on a deer I harvested earlier this season." Honestly, I wasn't, but I glanced at the pictures he'd attached. Good deer, I thought. Then began to write a "thanks, but…" note. Then, I read the information he'd sent me more closely.
We don't normally run a hunter's normally "grip and grin" photo on the main page of The Outdoor Wire. It's been a policy since we began twenty years ago. Sometimes, however, the photo is a key element of a good story.
The reason this particular "grip and grin" is important is to show the size of the velvet antlers on the animal.
They were scored by a pair of BTR (Buckmasters Whitetail Trophy Records) scorers at 191 inches. A good deer, but the reason this one is a record is because the deer harvested by Michael LaLonde, Jr. isn't a buck- it's a doe - a twenty-two point antlered doe. The initial scoring has it as a BTR world record.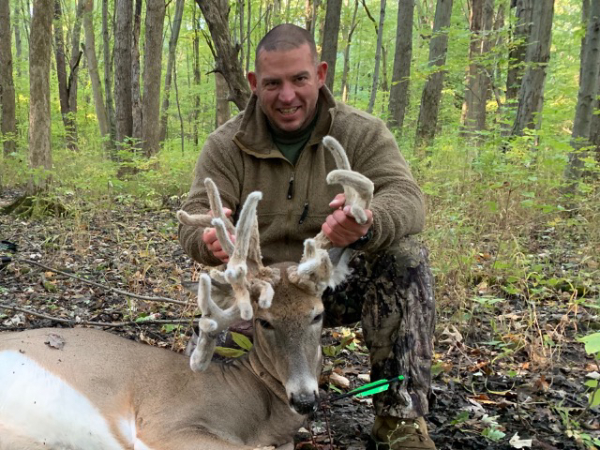 "I first saw her last November," LaLonde told me, "and I'd already taken a buck. I only had a doe tag left." Since Ohio only allows one buck, he let her go. But he didn't give up on the idea of seeing her again on the public land in Ottawa County, Ohio where he was hunting.
This November, however, he saw her again - and didn't pass up the opportunity. And since the harvest, he says "I've learned a lot about antlered does."
Actually, he says, he's learned about hermaphroditism - which is the presence of both sexes in a single critter.
There are actually three types of occurrences: hermaphrodites (both male and female internal organs or combinations thereof), pseudo-hermaphrodites (otherwise known as cryptorchid males), and the true antlered doe. In the third instance, the horns are "usually" only spikes or buttons.
Decidedly not the case in this case.
This female, estimated to be over six years old, is sporting quite a rack. The bases, LaLonde told me, measured at least nine inches per side. As you see in the photo, they're nearly touching.
And twenty-two points is a pretty noteworthy non-typical rack on any deer.
Talking with LaLonde was a pleasure. He loves hunting, hunts public land, and understands the ethos of hunting. In other words, a good guy who had great fortune.
There's doubtless more to come about this story, and we'll keep you posted.
OK, that's not a very colorful recounting of a lifetime memory for Mike LaLonde. I'd be snorted down for my retelling of his tale by real storytellers. Seems I'm too cut-and-dried when it comes to phraseology. I prefer the short soundbite to the long sonnet.
Which is why I take so much pleasure in reading the works of real writers. Like my friend, Jim Casada. Since I got into the outdoors, he's been a friend, confidant and occasional critic-although he's lacking the acid tone a "real" critic.
His latest work "A Smoky Mountain Boyhood" is, in a word, one of those gems.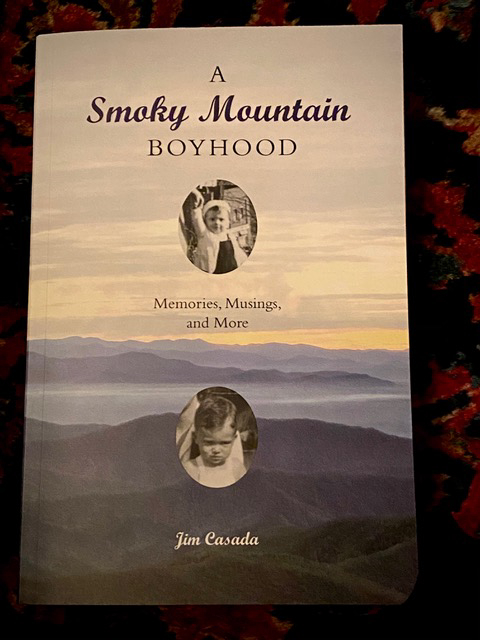 A native of Bryson City, North Carolina, he's been a teacher, author, and hellacious fly fisherman for quite a long time. And growing up, he was a typical country kid. This book is a recounting of- and a testimony to- the richness of that childhood.
Chock full of his wonderfully-recounted memories, his skillfully told stories bring back my own memories of everything from pocket knives and slingshots to fish fries, church dinners on the grounds, homecomings, revivals and all the other community-oriented things that made our childhoods so memorable.
It's one of those books that is worth reading, whatever your age. If you're my age, it's a trip down memory lane. If you're younger, it's a chance to taste a time long passed, but deeply appealing.
And if you're looking for a gift that is unique and enjoyable, I recommend it -highly.
Jim's actually offered to sign and inscribe copies for you. But to do that, you're going to have to get busy to get it under someone's tree this Christmas.
You can order it online at jimcasadaoutdoors.com - if you want the signed inscription option( it's $29.95 + $5 shipping). If you're not in a holiday rush (like a present to yourself), you can order it from Jim directly (Jim Casada, 1250 Yorkdale Drive, Rock Hill, SC 29730) I'm pretty certain he'd still inscribe one for you.
Finally, a reminder that next week's editions are the last ones for 2020.
We begin our annual holiday hiatus a week from tomorrow (Friday, December 18). We'll be taking time off, cleaning up servers and back-office technology, and finishing testing of some new "wrinkles" we'll be rolling out to you in 2021.
All part of keeping our promise: we'll keep you posted.
—JIm Shepherd