Shaner Takes Gold in Men's Air Rifle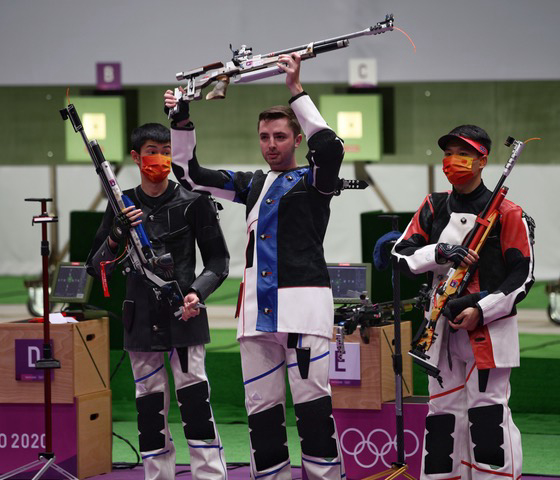 William Shaner broke through where other American's had failed, capturing the first ever medal in Men's Air Rifle in Olympics competition, happily it was gold.
It is the first Olympics for the 20-year-old student at the University of Kentucky who looked more like a grizzled veteran as he slowly and methodically built a lead over the seven other competitors, including his teammate, Lucas Kozeniesky, who finished sixth.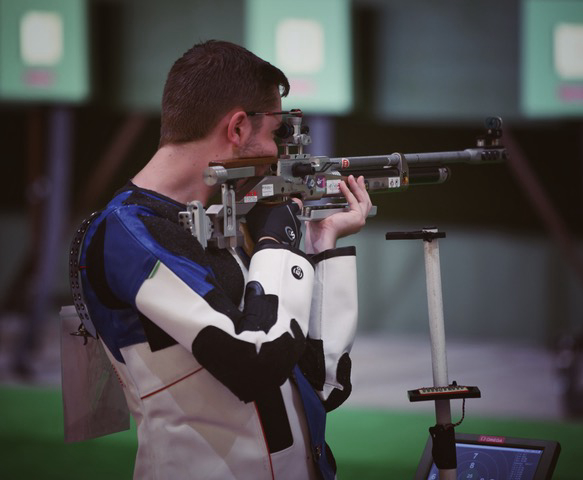 "It feels amazing.," Shaner said after his biggest win in his career. "I'm only 20, but I've been doing this since I was eight. I've been doing this a long time, so I've been able to get a good score and progress. To finally achieve what I came here to do is amazing."
With two shots left in the competition, Shaner had only the People's Republic of China's Haoran Yang left with a 1.5 points lead, that while not insurmountable, was hard to overcome as Yang made up some ground in the but, in the end, Shaner's 251.6 was good enough to win and set a new Olympic record as well.
"Ideally, that's what I wanted," Shaner said of how he controlled the match from the early stages. "Anything can happen, like we saw in the first final that we had here, so kind of build that lead, build that lead to basically nothing is holding you back."
Shaner was alluding to the Saturday's Women's 10m Air Rifle final, Anastasiia Galashina of the Russian Olympic Committee had a 0.2-point lead going into the final shot against Qian Yang of the People's Republic of China. Yang shot a mediocre 9.8 and though she had lost until Galashina's 8.9 was posted.
On a bit of a hot streak after winning World Cup in Croatia last month, Shaner was able to use what he did effectively and apply it on Sunday in Tokyo, as well as thinking it was possible.
"I just focused on my process and just competing and just stayed within myself and not focus on outcomes," Shaner said of his philosophy to deal with the moment. "It's basically the same as Croatia, much bigger stage so I just did the same thing I did there and just work out the problems I had and just knew that would get me to where I wanted be."
The problems Shaner alluded to out of Croatia was mainly nerves along with controlling his heart rate.
"Croatia was a testing grounds of what I wanted to do here," Shaner said. "It was more trial and error, if something went wrong in Croatia, I'd know how to fix it so when I got here, I'd be fine."
Shaner's was the first medal for the USA in shooting in Tokyo and it's only the third in the air discipline for America since the events started in Air Rifle in 1984 Olympics in Los Angeles and Air Pistol at the 1988 Olympics in Seoul.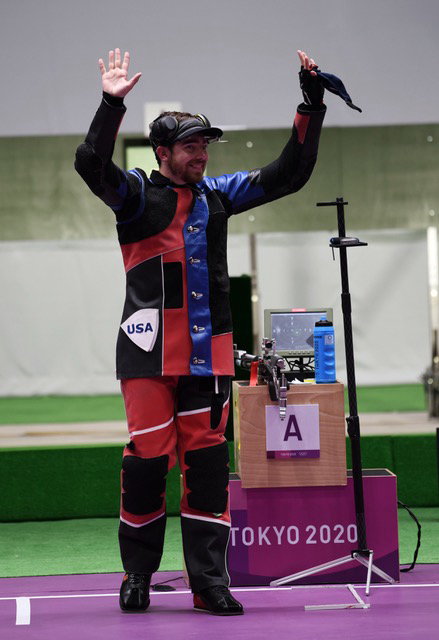 "I not really stressed about it at all," Kozeniesky said of watching Shaner in the finals after he was eliminated. "Once I sat down and see Will compete like that before and I'm like yeah he is at least going to win or he's going to fight really hard."
Other news from Tokyo is shooting came via Skeet, where both the Men and Women are going into the second day of qualification on Monday with a successful first day of qualifying.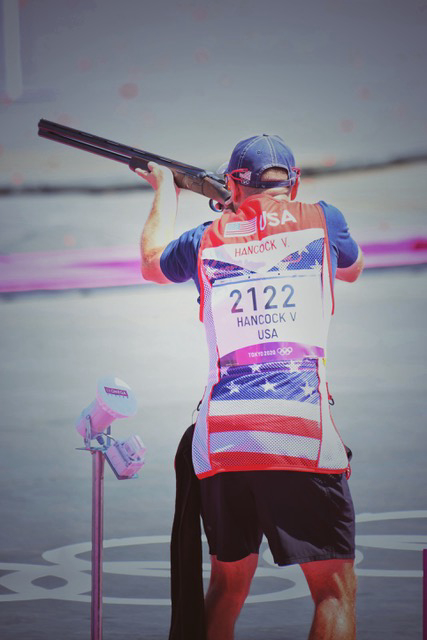 Vincent Hancock didn't miss a target on Sunday shooting a perfect 75 and is joined by France's Eric Delaunay in a tie for first place going into the second day of competition.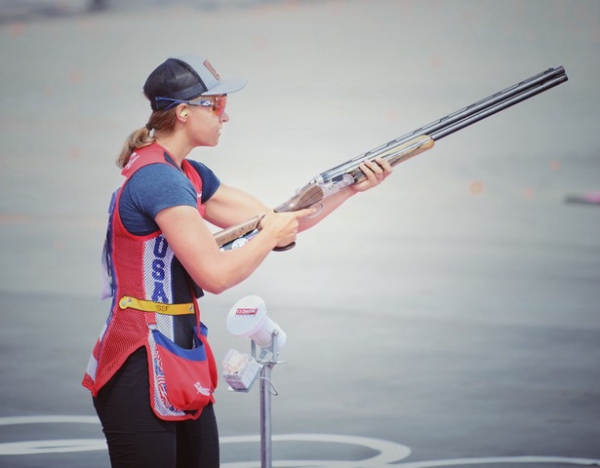 Both Jewell Austen Smith (3rd place) and Amber English (7th) are also in good place going into the final day of qualifying.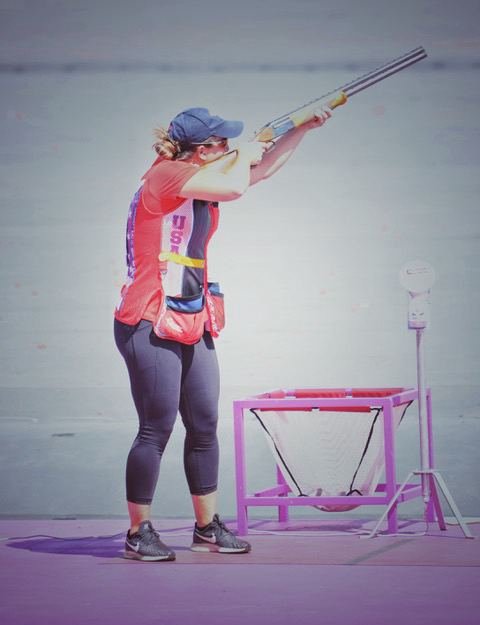 Phillip Russell Jungman faltered in the third session recording a 23 out of 25 points and is in 23rd place with some work to be done to make the finals on Monday.
Hancock is the only male to win multiple golf medals in skeet shooting at the Olympics Games, winning in 2008 and 2012.
He also is 20-year-old Smith's coach.
"She shot pretty good this morning, it's not what she wanted, she dropped a few targets, that's understandable this is her first really big match and she's still young, she just turned 20 a couple of days ago at Opening ceremonies and I'm expecting good things from her, she's capable of it shoe shoots with me every day and she pushes me every single day," Hancock said of Smith who he coaches. "She beat me just before we came here and I shot almost perfect, I dropped on target and she beat me, I know she is fully capable of doing it and I'm there for her, I'm pulling for her. If I've done my job right, she's not going to need me at all, and she knows that."

---
Ellison Second in Men's Archery Qualifying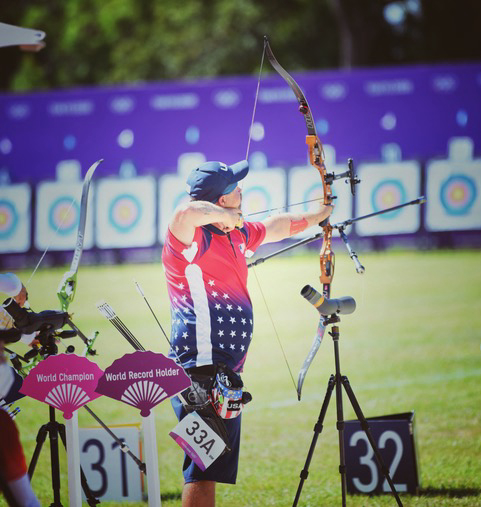 Even the best in the world is fooled occasionally.
That includes world number one archer Brady Ellison, who finished second in qualifying in Tokyo on Friday with 682 points, one behind leader Je Deok Kim of Korea.
Twenty points off his world record of 702 which he set at the 2019 Pan American Games, Ellison was happy with his day and his position going into the finals next Saturday in the final day of archery competition of the Olympics.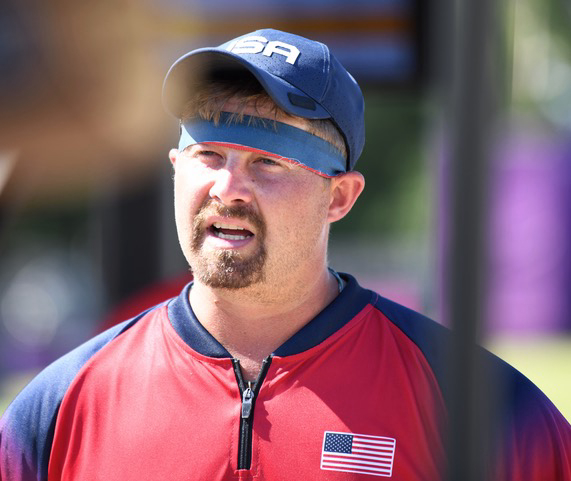 "Felt pretty good, I was a little slow that first half," Ellison said of his halfway total of 337 points. "I misjudged the wind on too many of them. Some drifted away way more and then some of them hit right behind the pin and that kind of hurt."
With first half in the books, the 32-year-old rebounded with a second half of 345, eight points better than the first half.
Ellison found the medal stand as an individual in his third Olympics at Rio winning a bronze medal and matching his efforts in London with a men's team silver medal in Rio as well.
With two silver and a bronze medal, what is missing is a gold, with what will likely be his last Olympic competition.
"I think the biggest thing I want to do different this time is shoot the required amount of 10s to bring home a gold medal, I haven't done that one yet," Ellison said of what he'd like to change in his fourth Olympics. "I'm going to go out there and give it my all and be smart and shoot the best I can. And if I come home with a gold, I come home with a gold, and if I don't, I'm coming home to a family that loves me. So really any way you look at it, it's kind of a win-win."
Ellison was looking toward the Olympics last year, having put the idea of having a baby off until after Tokyo 2020, but the world has a way of changing the best laid plans and now Ellison comes to Tokyo with an 8-month-old boy named Ty at home and his life has completely changed.
No longer seeing archery as do or die, Ellison has refocused.
"As soon as he came into the world ... my mind and my priorities in life are just completely different now," Ellison said of his son's arrival. "This stuff is fine, this is how I pay my bills, but at the end of the day he's the one that's important, and he's the one I'm going home to."
While Ellison is the favorite coming into this week, he also knows that the Korean team is very strong and while Kim, the leader, is six points ahead of him, and his old nemesis, Jinhyek Oh at 39, the 2021 golf medalist in London is just one point behind and lurking.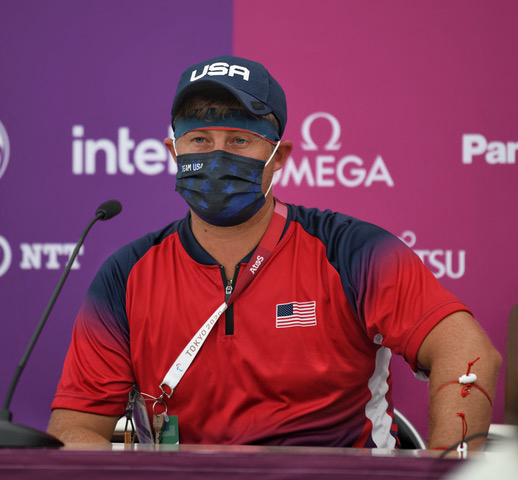 When asked in the post qualifier press conference which of the two Korean's Kim or Oh he'd like to see in the final, Ellison, while paying nice compliments to Kim, expressed the desire to see Oh because of their history over time.
Still Ellison is the top ranked archer in the field, that must count for something?
"As I've got more experienced, those kinds of rankings and stuff don't really put too much pressure on me," Ellison said discounting his ranking. I'm feeling good, I really feel like I'm ready to go and win it. "It's my fourth run, and we'll see what happens. There's a lot of good shooters in here, but I like shooting the finals."

---
Tucker Gets to Final Round, But Finishes Sixth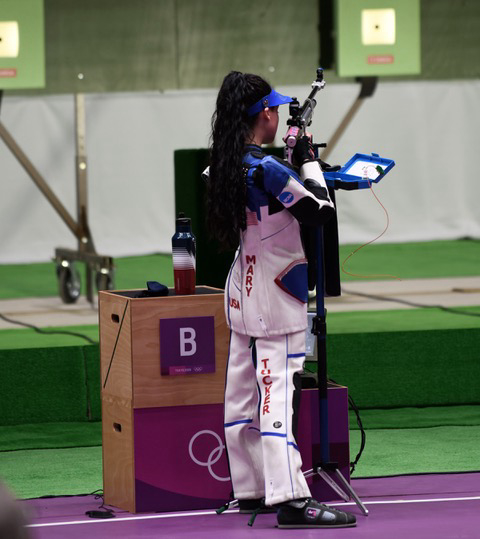 Jul 24, 2021 - Tokyo, Japan - It's not often the Olympics are boiled down to a learning experience, but that is how Mary Carolyn Tucker, a rising star in women's shooting characterized her first Olympics competition.
Finishing 6th in the 10m Air Rifle competition in the Olympics on Saturday, Tucker seemed to take her first chance to win a medal in stride.
At 20-years, old, Tucker a rising junior at the University of Kentucky has won at the highest level, winning the 10m Air Rifle competition at the 2021 World Cup in New Delhi this March, so her reaction that missing out on a medal opportunity was a learning experience seemed a little odd, but when you realize she has only been competitive shooting for a little over four years and was self-taught at the beginning, her outlook is understanding.
In breaking down her first Olympic experience, Tucker believes World Cup competition is much harder than the Olympics because there are a smaller number of competitors in the Olympics, 50 competed in the 10m Air Rifle field, than in World Cup fields where there are 100's competing.
But she conceded that the level of competition is higher in the Olympics and the level of stress is different as well.

"The stage was bigger, there was a lot of media going on, but really the only distraction was I prepared so much for the match that I kind of didn't prepare for the final," Tucker said after her maiden Olympic performance. "It's one of the best performances of my life so I'm happy with it I got the next four years to keep coming back to these things."
"I kind of knew it was going to be like that," Tucker said of the difference in the two events. "I also only compete against myself."
But what she most takes for her 6th place finish is that she was underprepared for the finals as she entered as the third best qualifier.
Her training regime has always been to have a good match shoot and then end her practice.
Which left her unprepared for having to follow up her qualifier with a good final.
"Moving into Paris I'll diffidently prepare more for longer periods of time," A confident Tucker said of her next Olympics, with still two events to go in this one. "I pretty much only prepared for the match, and I was prepared to shoot a really good match and usually in practice I'll shoot a good match than I'm done with training. I think now I'm going to shoot a good match and then a good final, I need to kind of push everything further."
While Tucker was on the sidelines watching the conclusion of the finals match, she would have learned a valuable lesson as Anastasiia Galashina, who never had won a 10m Air Rifle in international competition was leading by 0.2 points with one shot to go. Steady through the entire match with two scores below 10, both 9.6's, the 24-year-old recorded an 8.9 to the gasps of the assembled crowd, mostly coaches and shooters.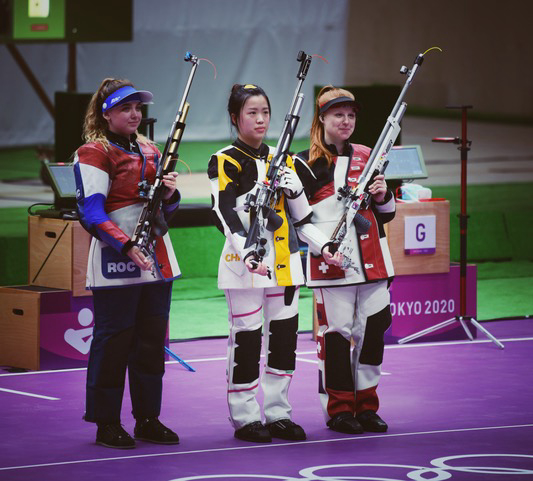 Also, to a tremendous surprise to her competitor Qian Yang of China who shot a 9.8, her worse score of the finals, but won the gold medal by 0.7 points.
Tucker did admit it was a little bizarre to have that happen at this level, saying that she would usually see a mid 9 as a typical score if you missed at this level.
At the end of a long day Tucker was steadfast in her belief she is doing the right thing.
"I'm just going to keep doing what I've been doing," Tucker said. "Obviously I have prepared enough and what I do works, so I'm just going to keep doing what I'm doing."