Editor's Note: Today's feature first appeared in our companion service, The Shooting Wire (www.shootingwire.com)
---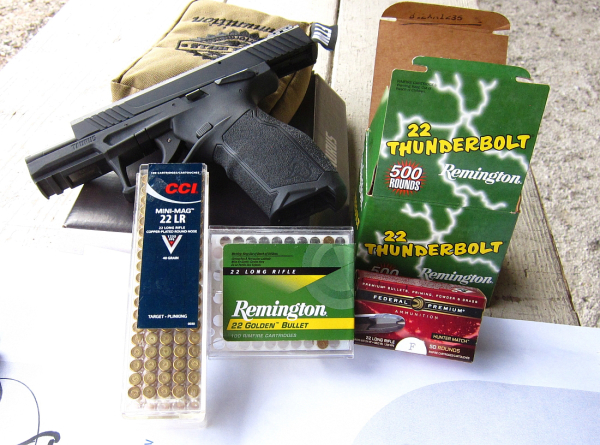 On one of those "make-up" trips to the range, I took the Taurus TX22, an interesting full-sized striker-fired pistol with a 16 round capacity. It's not the Taurus you'd expect in some ways. If you remember from the first mention of this piece in a Shooting Wire feature last month, it was fired during a range excursion meant to maintain compliance of retired peace officers under the Law Enforcement Officers' Safety Act. The targets are large, a holster is mandatory and it's more in the nature of shooting drills than precision – seeing what we can expect out of the pistol in handling. This time the goal was checking the gun with several types of ammo for accuracy.
I'd taken only one brand/type of ammo, Remington Golden Bullet. It worked fine, there were no failures to fire and one stoppage which we concluded was shooter-induced.
On this trip, I simply supported the base of the pistol on a bag over the pistol box, giving me the right elevation to center the sights on a 25 yard target. This time, the Remington Golden Bullet made the trip as did the same maker's surprisingly good Thunder Bolt promotional ammo. A recent rimfire contender, the Federal Hunter Match has shown outstanding results in every gun in which it's been tried thus far.
Additionally, a consistently good performer is CCI Mini-Mag. Readily available, more expensive than bulk-pack promo stuff yet not as pricey as the real premium target rimfire, it's been the hunter/plinker's friend for decades.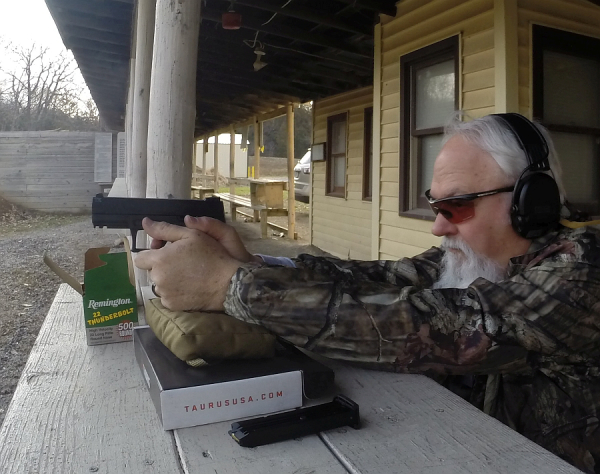 As usual, I noted the five-shot groups fired slowly from a seated rest. I also recorded the "best three of five," ruling out shooter errors – visual and trigger control. I also noted point of impact deviation from the sights as supplied without adjustment. The results follow.
Taurus TX22, 25 yards, base rest
| | | | |
| --- | --- | --- | --- |
| Ammo | 5-round group | Best 3/5 | Notes, POI |
| CCI Mini-Mag | 1 5/8" | .5" | - 5", 2" Left |
| Golden Bullet | 3.5" | 1" | - 5.5", 4" Left |
| Thunder Bolt | 4.75" | 1.5" | Vertical, -6", 4" left |
| Federal Hunter Match | 5" | 2.75" | -3.5", 3.5" left |
So what can we conclude? The gun can shoot more tightly than I can hold. As you can see, one load demonstrated vertical stringing. In this case, I believe it's a compromised grip. A premium load, Hunter Match, didn't so quite so well as the other loads; that's the nature of 22 rimfire guns. They seem to demonstrate a definite character, real preferences for ammo. That's why it's worth the effort to shoot a range of ammo offerings, note the performance of each load in that gun, then lay in a supply of the top loads for each 22 firearm.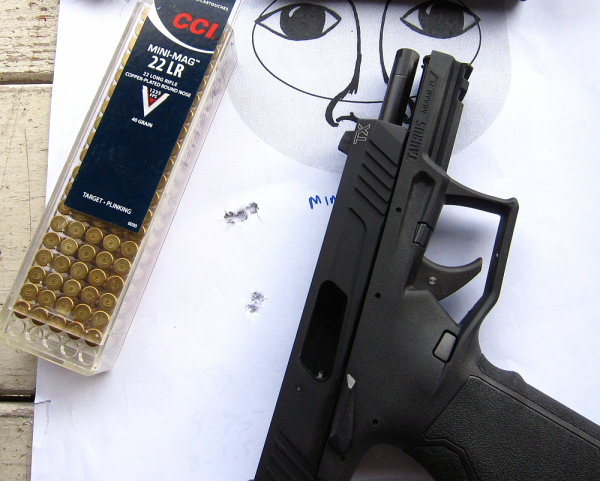 I did not adjust the sights but left them to see where each load struck relative to the sights as shipped and relative to each other. Impact across brands was pretty consistent. Selecting the accuracy load and adjusting the sights for it would be my plan.
As to operation, there were no more stoppages. I find myself hitting the protective shelf molded into the frame below the magazine release when I try to get the mag out; this isn't a 'gun problem,' it's a user problem. It's a 22 range gun; just sort it out.
Surprises thus far? The CCI Mini-Mag; it's great ammo, has been for many years, but it really stood out in this heater. Another surprise was Federal Hunter Match: it's been great in everything I shot except the Taurus TX22. Thunder Bolt has been turning in great performances in a number of handguns and rifles lately – across the board. For this TX22, it wasn't the best choice.
The Taurus TX22 is a credible performer thus far. They did their homework on this one.
- - Rich Grassi