The US population as been increasing from 226.5 million in 1980 to 327.2 million in 2018, but participation in outdoor sports, especially, hunting, fishing and sport shooting, in general isn't keeping pace. In 1961, when the Outdoor Recreation Resources Review Commission conducted a study of outdoor recreation in America, they found almost 90% of Americans participated in at least one outdoor recreation activity. Today, the percentage of Americans who say they participate in an outdoor recreation activity is about 50%.
A recent U.S. Fish and Wildlife Service report found hunting participation nation-wide has declined 16% from 2011 to 2016, dropping from 13.7 million to 11.5 million. The decline in hunters in California is the greatest. In 1970, there were 763,671 hunters in California. In 2018, the number of license holders was 260,348, about a 70% decline. This decline has seriously reduced funding for the California Fish and Wildlife agency.
Nation-wide, fishing is holding its own. There are approximately 60 million anglers in the U.S. of which 46 million fish in a given year. However, also in California, since 1980 annual recreational fishing license sales have declined by over 56%, while the state has witnessed a near 60% increase in population. If this trend continues, there could be less than 500,000 annual licenses sold by 2027 – a 77% decline from 1980.
In 1980, California's annual fishing license fee was a mere $5.00. Today, California's annual resident fishing license is the second highest in the Country. Resident Sport Fishing License for any resident 16 years of age or older is $49.94. A nonresident California Sport Fishing License for any non-resident 16 or older is $134.74.
The number of sport shooters nation-wide has slightly increased. In 2017, the number of participants (aged six years and older) in shooting sports with firearms amounted to approximately 9.38 million. This up from 2006, when it was 7.08 million. There could be a lot more. https://www.statista.com/statistics/191954/participants-in-shooting-sport-in-the-us-since-2006/
To pump new life into hunting, fishing and sport shooting, all across the US, people are coming together in the R3 movement. https://www.nationalr3plan.com/ .
"R3"-- stands for recruitment, retention and reactivation. Great idea. There are some good programs to help kids and adults get outdoors more often and participate in hunting, fishing and sport shooting and more are developing. Imagine what participation would be like without them.
Back in 1961, television and radio were the electronic communicators of that era. Today, we live in the Information Age where everyone has access to more information than ever before and this has advantages and disadvantages. The average person now spends seven hours a day looking at electronic screen media, and many pay for it psychologically and physically.
In addition to information overload, a recent Pew Research Center survey reports 68% of U.S. adults believe fake news is a more serious problem than sexism, racism, illegal immigration or terrorism. https://www.axios.com/americans-fake-news-problem-terrorism-da565b6c-6ab3-42a1-ae08-3400d68ab99c.html Another study finds only about 22% of Americans trust the information they get from local news organizations a lot, whether online or offline, and 18% say the same of national organizations, slightly higher than the 14% who say this of the information they get from their friends and family. https://www.journalism.org/2016/07/07/trust-and-accuracy/ Little wonder that there is so much anxiety, hypertensions, and mental stress these days. https://www.theoutdoorwire.com/features/d58c9f63-7497-4c3d-a73a-750922c96823
The bottom line is that we could all probably benefit from spending less time interacting with electronic media, but it isn't going away. Mainstream media have a strong presence in our lives and it isn't going away. So, we need to find ways of taking advantage of media to help get more people outdoors fishing, hunting and sport shooting.
My perspective in this is that today I'm a writer, TV and film producer and an actor, but before that I was a college professor of environmental studies and psychology who conducted survey research on attitudes and produced documentaries. From both past and present perspectives, my focus has been how to use media effectively. Right now the growing national R3 effort for hunting, fishing and sport shooting is wonderful, but is it enough in The Information Age? From my perspective, to recruit people to let go of their electronic devises and get outdoors more often, it's essential to use mainstream media, as well as offering people of all ages opportunities to hunt, fish and shoot.
I'm sure that some folks will ask for proof that mainstream media has such a strong influence on outdoor sports. There are at least two places where this is easily possible:
In 2016, 86 million Americans said they watch wildlife. This is a 20% jump from 2011. https://www.birdwatchingdaily.com/news/birdwatching/report-86-million-americans-watched-wildlife-2016-20-percent-jump-2011/ Some schools and youth groups do offer field trips, etc. but a lot of environmental education today is focused on predicted crises. We can thank David Attenborough, PBS, National Geographic, Animal Planet, Discovery, Netflix, etc. for some of this increase in wildlife watching because they are entertaining and educating millions to what is outdoors. Some of these folks will hunt and fish, but others may form different attitudes toward hunting, fishing and sport shooting.
A second area where there's been a significant increase in outdoor recreation is archery. From 2012 to 2015, archery participation increased over 20%, with 23.8 million American citizens age 18 and older shooting. This participation increase has been documented in a nationwide survey by Responsive Management in April 2016. The results found 9.9% of Americans 18 and older shot archery sports in 2015. https://archerytrade.org/survey-says-23-8-million-americans-enjoyed-archery-in-2015/ That more than twice as many archers than hunters.
One reason for this increased interest in archery is the National Archery in The Schools program. Since being founded in 2002 in Kentucky, The National Archery in the Schools Program (NASP®) has made the sport of archery fun, safe and engaging for over 18 million students in over 14,000 schools in 47 states, nearly all Canadian provinces every year, and in 10 different other countries including Africa and Australia. Currently, over two million kids 4th-12th grade participate in NASP® every year. It is the largest youth archery program in history, and it's growing at 9.3% per year – about 1,000 new schools join every year.
Students in grades 4-12 participate in NASP® in public and private schools. Some continue shooting archery in college, as well as in other recreational teams, and even the Olympic team. Some become professionals. Archery is a life-long sport and it's safe. Soccer, baseball and basketball have injury rates 15 to 25 times that of archery. Archery is a life-time sport with an accident rate about the same as ping pong. There's never been a serious accident in NASP® events. And participation in archery is good for the archers.
According to a 2017 poll of students participating in NASP®: 58% of students feel more connected at their school; 40% of students work harder in school; 34% buy non-NASP® bows; 17.5% bow hunt and another 34% want to but haven't yet; and 20%+ hunt with firearms or want to.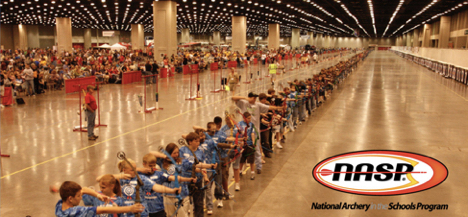 Certainly NASP® and other R3 programs are providing people a chance to try archery. But, what's getting their interest in archery in the first place? To quote Forbes magazine, the reason is mainstream media. https://www.forbes.com/sites/ethangach/2013/11/22/archery-is-on-the-rise-with-help-from-movies-like-catching-fire/#6a325e57130d
Since the early 1900's, there have been many onscreen archers. This began with the 1922 silent film version of "Robin Hood" starring Douglas Fairbanks. A second version of Robin Hood starring Erroll Flynn in 1938 was also extremely popular. Flynn had some help from Howard Hill, a stunt archer who had a tremendous role in inspiring people to take up archery. Hill appeared in documentaries, as well being a renowned stunt archer in movies and TV. (He got some help from Fred Bear, too.) Since then, heroic archers have since been played by many actors; including Sean Connery, Russell Crowe, Kevin Costner, Geena Davis, Jennifer Lawrence, Orlando Bloom, Sylvester Stallone, Nicolas Cage, Burt Reynolds, Cary Elwes, Dwayne "The Rock" Johnson, Jeremy Renner, William Shatner, Soirse Ronan, Chris Pratt, and many, many others. Currently, "Hawkeye" – one of the "Avengers" played by Jeremy Renner – is being seen by millions of moviegoers around the world.
A popular modern TV dramatic series with the lead character of a heroic archer on a quest for justice is "Arrow", played by Stephen Amell. Other popular shows with positive depictions of archers and archery include "Game of Thrones" and "Atlantis," as well as international competitions. https://www.youtube.com/watch?v=ssxuSjZrEwU&list=PLnGbQXzYstgEyAHMkWzzpszGx588wUOrj
In the last decade the number of archers in the US has gone from three million to more than 23 million, and as many as 1/3 of US archers are women. NASP® is definitely one factor but another factor is that many heroic women archers are appearing in TV and films. According to the Archery Trade Association, a big boost for women in archery came in 1999 when Oscar and Golden Globe-winning actress Geena Davis became a semi-finalist for making the US Olympic archery team after being inspired to take up the sport by watching Olympic archers on TV. See Geena in action at this fun video: https://www.youtube.com/watch?v=93jSVyXW5gc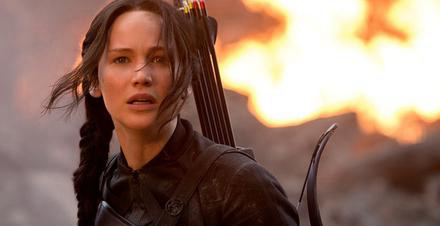 A second major increase in women archers took place when the "Hunger Games" series starring Jennifer Lawrence, "Lord of the Rings," and "Brave" were on the big screens. https://www.archery360.com/2013/11/19/jennifer-lawrence-shoots-hoyt-buffalo-bow-easton-x7-eclipse-arrows-hunger-games-catching-fire/
There were archery events in the Olympics in 1904, 1908 and 1920, but then archery did not become a regular Olympic sport for 52 years, returning in 1972. Today, over 80 nations send archery teams participate in the summer Olympics. Archery promises to be even more important in the 2020 Games. And two main reasons are NASP® and mainstream media.
The numbers tell part of the story but it helps to go more deeply. This is happening with research that began almost a decade ago being sponsored by Geena Davis and her institute. According to Davis, "Our study is the first to examine whether archers in popular film and television programs inspire people to take up the sport." She goes on to explain, "Both 'The Hunger Games' and 'Brave' were released in 2012; participation in archery rose 86% from 2013 to 2014, with women's participation increasing 105% during that period of time! It's not surprising to me that Hollywood's depiction of inspiring female archers has contributed to the sport's phenomenal growth — it's another demonstration of the powerful impact fictional characters can have on girls' aspirations. As I always say, if she can see it, she can be it."
For more about this research see: https://seejane.org/gender-in-media-news-release/new-study-geena-davis-institute-finds-archery-catches-fire-thanks-inspiring-hollywood-images/
In an earlier Outdoor Wire article, https://www.theoutdoorwire.com/features/232215 I suggested some strategies about how it would be possible to cultivate a positive relationship with mainstream media. Actually, there are at least 50 celebrity archers in Hollywood and in development are several feature films with archer heroes and heroines and a celebrity archery event. Details to follow.
—James A. Swan, PhD.