The National Association of Sporting Goods Wholesalers (NASGW) Annual Meeting and Expo is nearly in the books.The 2022 sessions are ending on what could best be described as a decidedly more cautious tone. Not negative, just cautious.
As one attendee told me, "yeah, we're looking at a downturn in business (more on that below), but this is the first 'show' where things have actually started to feel more normal." Seems the "new normal" has yet to establish itself.
There was a new "normal" at this session. As the attendee explained to me, it was a meeting where there weren't signs warning of covid dangers. Only the on-site food handlers for the Convention Center were masked. But the lasting influences of the covid shutdowns are still obvious- and aren't likely to disappear any time soon. Hand sanitizer was ubiquitous. And the fist bump appeared to be running virtually neck-and-neck with the "old school" handshake.
But the industry seems pretty solidly behind the ideas of the "bro hug" and "hugging it out" with longtime friends. Have to admit, I always found the bro-hug a bit hokey pre-covid. But I genuinely enjoyed seeing old friends and professional acquaintances- and hugging seemed like a more natural response than fist bumping. So, we "hugged it out."
Business wise, there's one word that summarizes what everyone says they're experiencing: slowing. If you're in AR-style rifles and centerfire pistols, you're seeing more significant slowing than the other "traditional" categories. Those traditional areas didn't experience the boom of the past few years, so that slowing is less concerning than the reduction in the defensive guns.
How much depends on the manufacturer. Not everyone is seeing significant slowing. It seems more true than ever that the rich get richer.
Smaller manufacturers are reporting their sales are down as much as 20-25 percent over last year. Those reductions reflect the industry and consumers watching the elections to see what the midterms bring.
As one company executive told me, "we're pretty careful about acknowledging the fact that the elections going further to the left would actually be better for the overall revenues of the industry than a 'red wave.' We have to realize that good for the industry -in that case- wouldn't necessarily be good for the overall health of the country."
Senior officers at a number of companies, tell me the inventory issues exacerbated by covid haven't necessarily improved, but they've decidedly shifted. Today, many manufacturers are struggling with growing inventories of both products and raw goods.
Big buys to help avoid price swings have tied up working capital. The continuing limitations of options when it comes to banking and credit facilities are also concerns.
From a consumer standpoint, it's a decidedly bright future ahead. There are a lot of neat new products coming to market. A number of interesting new guns will be rolled out between now and SHOT Show in January.Whatever your special area of interest in guns, there will be new products to pique your interest. I've seen, handled and made notes about rifles, handguns and shotguns that I'm looking forward to being able to talk about over the next few months.
There are also some interesting products that we've announced pre-NASGW, but only just had the opportunity to handle during our time in Kansas City.
I was intrigued by a pair of rifles from Fightlite. One, their SCR (Sport Configurable Rifle), looks like what would happen if a traditional hunting rifle and an AR fell into a blender together. As Fightlite describes it, it's a combination of the "rugged all-weather characteristics of America's longest serving infantry rifle and the classic lines of an American sporter." Apt description. It's a multi-caliber semi-auto that lets users exchange upper assemblies for other calibers. And the rifle, despite its decidedly different look, will take many MSR parts and accessories, from magazines and upper receivers to barrels, bolts, handguards and optics.
Their second rifle, the HERRING Model 2024 is what they call a "clean-sheet revival of the lever-action concept." Can't beat that description, either. The HERRING I handled was essentially a lever action built around a pseudo-AR action. That's my description, not theirs, but I don't know how else to describe it. Imagine a lever action rifle, with a mag well that takes STANAG pattern magazines. It's a lever gun that lets you go from 5, 10, 20 or 30 rounds up to the mondo 100 round AR magazines.
The magazine feed eliminates the center of gravity shift all lever-action shooters know. At this point, I'm told they will primarily be available in 5.56 NATO and 300 BLK. But they'll also reconfigurable for anything from Hornady's new 6mm ARC to 450 Bushmaster. Heck, they say it can also be chambered in pistol rounds -with a commensurate shortening of the lever-stroke.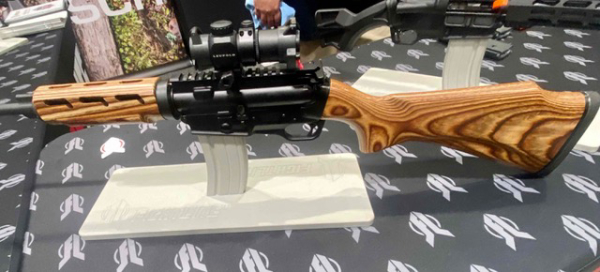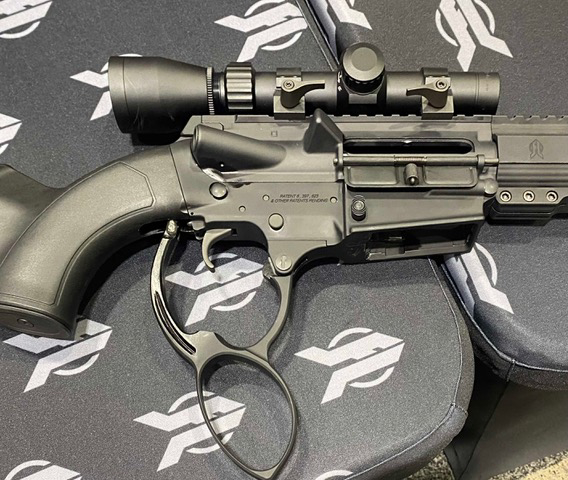 There are interesting new products coming from number of accessory manufacturers, but a pair of decidedly different products from one of my favorite holster makers, 1791 Gunleather, will appeal to people looking for affordable gear and/or an every day carry product that makes their every day carry simpler.
The first, is a simple-looking, affordable holster. And I use the word "affordable" because inexpensive isn't fair to the engineering they've put into it. The 1791 goal wasn't just to build an affordable holster. It was to build a holster that was also a high functioning piece of gear. Their small holster fits that bill. It's a holster that will accommodate an optic-equipped pistol -without the snag concerns of fiber construction. They've gone to the effort to engineer and sew-in a protective channel that keeps you from hurting or hanging your iron sights on the draw stroke. How do they do that? As you'll see from the photos, by sewing-in a polymer protective channel for your sights. They not only ameliorated the concern of snagging your handgun in your holster in a fast-draw situation, while protected your sights. All in a product that is well under $50.
Their other product is one that I can hardly wait to add to my collection of tool carriers. Their Everyday Tool Organizer is a high-quality piece of leather work designed to carry multitools, knives, pens and "other" EDC accessories. It is handcrafted from full-grain leather, has reinforced stitching and a key ring. Look at the photos and you'll quickly see it's applicable for a lot of things -each of which frees up space in your pack or pocket while still putting them in a single carrier.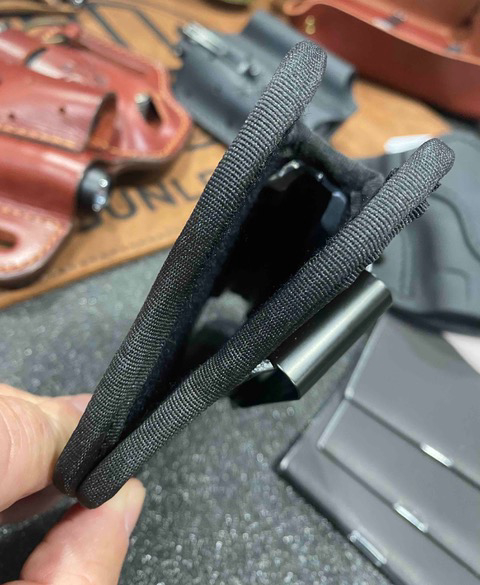 The new EDC Tool Organizer will be available in Chestnut, Burgundy and Black…and you'll have to get in line behind me to order. There's even a website coming online to tell you about the EDC Organizer, but they've not turned it up yet.
There are lots of things here worth talking about- and tons of insight being collected from the industry folks we're visiting with. All material we'll be sharing with you over the next few weeks. From innovative new accessories to a new take on "speed dating" NASGW had plenty of good ideas.
As always….we'll keep you posted.
— Jim Shepherd