I've been at somewhat loose ends this week, primarily because for many years, this was the week I spent in Orlando, Florida complaining about two things: the inland Florida heat and the crowds at ICAST.
Last year, there was no ICAST in Orlando, so I didn't miss it. This year, ICAST is back in what I'm told is "nearly" full-force at the Orange County Convention Center. And the preliminary reports I'm getting from there are positive.
According to a major distributor "the attitude of attendees- even on 'move in day' is very encouraging. People are truly excited to be here and see industry folks 'live'."
I get that. And as you can see from the announcements in this week's news sections, there are plenty of new products coming to market. Granted, many of them are new assortments of colors, sizes and variations on proven themes, but there are only so many ways to try and fool a fish into biting. That's no knock on anyone…because the advancements in the supporting technologies are mind-boggling. That's why I'm really missing the opportunity to browse ICAST's "New Product Showcase"- it's a concentrated area of a massive exhibition hall where much of the latest-and-greatest innovations are showcased. The annual best of show selections are really coveted, despite the fact they're more popularity contests with the zillion or so writers in attendance than a true measure of innovation.
But it's an encouraging sign that the enthusiasm is there. Everything kicked off yesterday ("Super Tuesday") with on-the-water demonstrations, the MLF Cup Bass Tournament and, of course, the New Product Showcase Preview Reception.

Sounds like a busy week for the fishing side of the industry. We'll keep you posted.
Meanwhile, some positive news for those of us who have been postponing our trips to the range because we've become nervous about the continued shortages of ammunition. If my range trip yesterday was any indication, it seems the drought of ammunition seems to be relenting somewhat.
During my visit to On Target in Murfreesboro (they now have two locations), I saw palettes of ammunition - in those popular, formerly hard-to-get calibers. Unfortunately, for me, I was there for a session with .22 rimfire, and that caliber is still short. But there were thousands of rounds of 124 grain 9mm ammunition, in addition to the formerly hard-to-find modern sporting rifle calibers.
And the prices weren't at the level that causes you to grit your teeth. The aforementioned 9mm ammo was $21.95 for a 50-round box. That's a significant price reduction over just a few months ago. And they tell me they believe prices may even drop a bit more on subsequent orders. Tactical Wire editor Rich Grassi tells me anecdotally that he's seen 9mm ammo online as low as $19 for a 50-round box. That of course, before shipping and taxes.
But that's all good news.
Unlike the revelation made during my brief range session. Due to the ammo shortages (and COVID lockdowns) of the past 18 months, I'd adapted my practice and training sessions. What was once wide-ranging, multi-caliber sessions morphed into considerably shorter, but more tightly-focused ones.
That modification cut down on the amount (and weight) of the guns, ammo and accessories I was bringing back and forth, forced me to prep my gear beforehand, and had the additional benefit of focusing me on what I planned to accomplish during each session. It has helped sharpen some of my shooting fundamentals while significantly shortening my time on the range.
It has also forced me to recognize some physical limitation. Yesterday's session was no exception.
For years, I've considered my High Standard .22 rimfire pistol to be the one I used as the performance standard for a host of other rimfires I've had. If it shot like my High Standard-M, well, it met a high standard.
Yesterday, however, the pistol didn't seem to be performing. While I could shoot good groups with it at 7 and 10-yards, the groups just weren't as tight as expected. In fact, I pulled out my brand-new FIXIT-Sticks pistol kit to make a sight adjustment.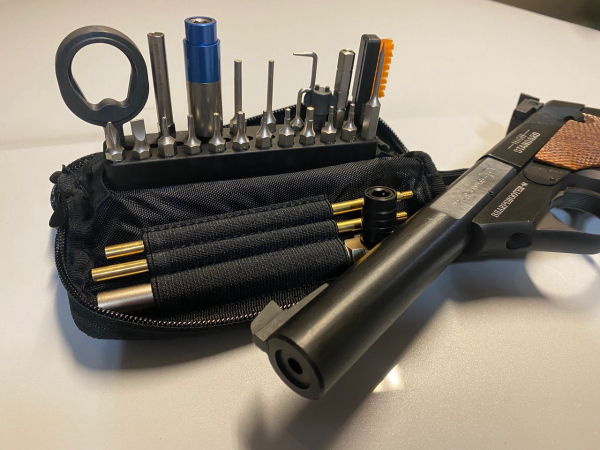 It didn't help. So I benched the High Standard and pulled out a much newer Ruger Mark IV Hunter.
When I did, the problem became apparent. Rather than the traditional matte-black target sights, the Mark IV sports a fiber optic front sight. Using it, my first group with the Mark IV was far better than the High Standard's.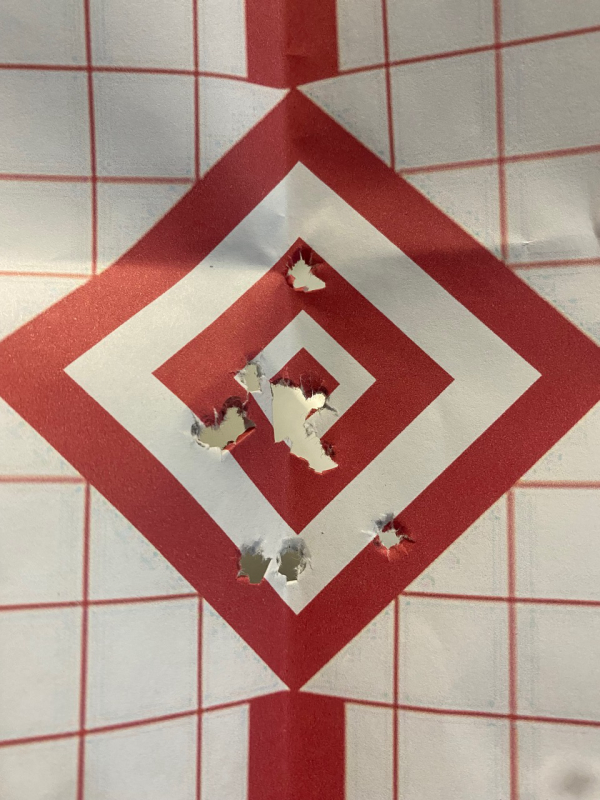 Lesson learned? Absolutely. I am still capable of shooting respectable groups, but I'm far more capable with some form of visual assistance. Doesn't have to be telescopic, holographic or illuminated, but my front sight needs to be something I can quickly pick up and place inside my rear sight. Otherwise, I'm wiggling my gun around, trying to assure myself that I'm actually getting a solid sight picture.
It was another of those short range sessions that brought my current capabilities - and infirmities- into sharp focus. And the point of any practice session should be to solidify your fundamentals, then leave with a better idea of what you need to do to get better.
Mission accomplished.
— JIm Shepherd