Editor's Note: We're still in the midst of National Shooting Sports Month and it's appropriate to allow the Scholastic Shooting Sports Foundation time -and space- to celebrate the Olympic successes of former SSSF shooters. While it may be too late for you to become an Olympic-caliber shooter, it's never too-late to give shooting sports a try. Let's go shooting.
---
Although the delayed 2020 Tokyo Olympics did not allow in-person spectators, the Scholastic Clay Target Program (SCTP) and Scholastic Action Shooting Program (SASP) had a lot to cheer about. Program alumnus, current athletes, and staff were among the incredible lineup of USA Olympic shooting athletes on the big stage in Tokyo. These representatives of Team USA and USA Shooting competed in their particular disciplines of International Skeet, Bunker Trap, 10 Meter Air Pistol, and 10 Meter Air Rifle. These sports are also practiced in the respective team-based youth shooting sports programs of the SCTP and SASP. With 3 Gold medals, 2 Silver medals, and 1 Bronze for USA in Tokyo 2020 Olympic shooting events, here is a look at their accomplishments and connections to youth shooting sports:
AMBER ENGLISH - GOLD, WOMEN'S SKEET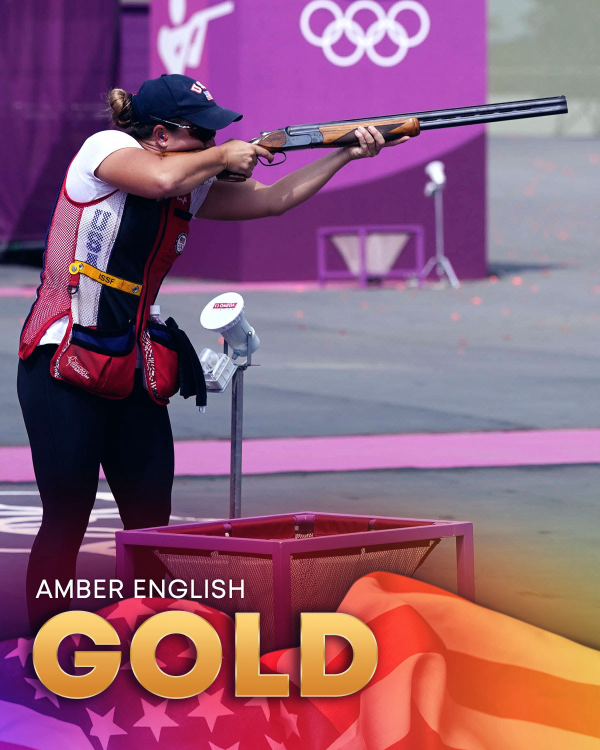 1st Lt. Amber English of the U.S. Army Marksmanship Unit, is also a Colorado Springs native. Growing up in a shooting family, Amber began shooting at the age of six. Program representatives recall that 1st Lt. English attended early Scholastic Clay Target Program training camp events on her way to her destiny of becoming an Olympic Gold athlete. On day 1 and 2 of the Women's Skeet Qualification, Amber put up impressive scores before heading to the final on July 26th. There, she set a new Olympic Record of 56 targets, dethroning 2016 Olympic champion Diana Bacosi.
VINCENT HANCOCK - GOLD, MEN'S SKEET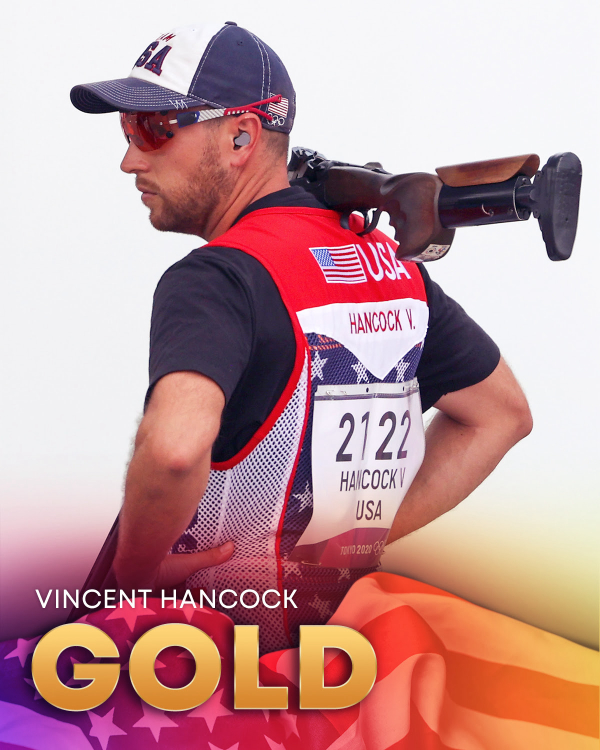 Vincent Hancock, an athlete alumnus of the Scholastic Clay Target Program set a new Olympic Record of 59 targets and became the first Olympic athlete to have won three gold medals in skeet. Hancock attended the very first SCTP training camp on his way to becoming an Olympic athlete. In 2005, at age of 16, Hancock won his first World Championship title in Men's Skeet and went on to win the prestigious International Shooting Sport Federation's Shooter of the Year award.
Hancock's shooting career continued on a path to Olympic gold after participation in the SCTP youth shooting sports program. At the age of 20, Hancock won the Gold Medal in the World Championships in 2009 and continued on to serve in the Army's coveted Marksmanship Unit. His Gold medal victory in Tokyo provided a clean sweep for USA in the Skeet events after Amber English's respective Gold medal performance earlier that day.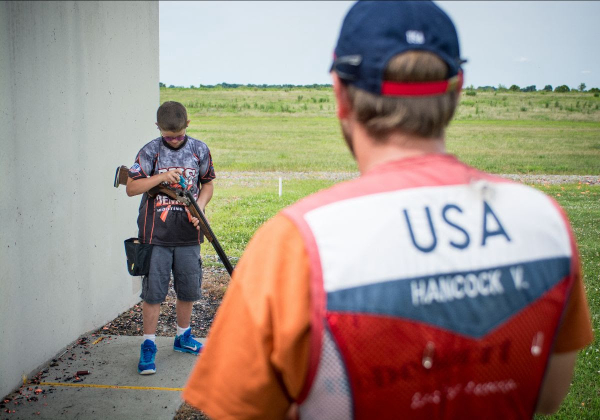 As a proud alumnus, Hancock has conducted training clinics for SCTP members and made appearances at National Championship events to meet and support the next generation of young athletes.
KAYLE BROWNING - SILVER, WOMEN'S TRAP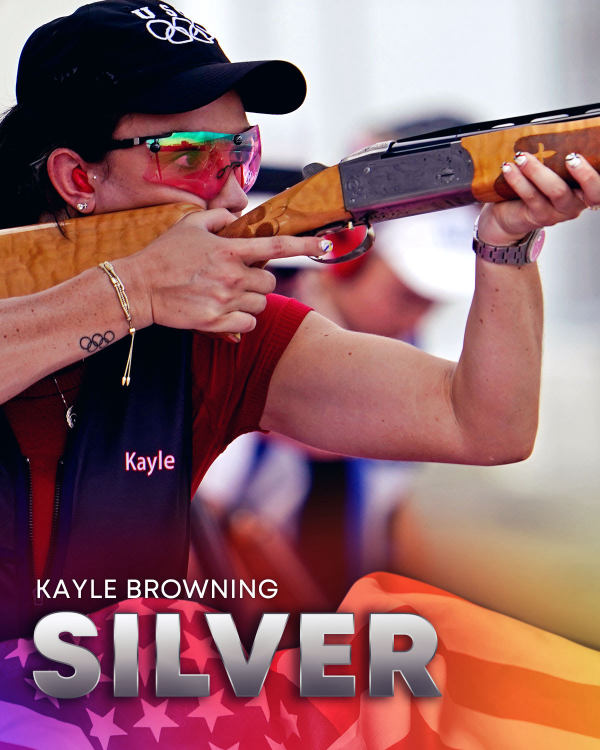 Kayle Browning began her journey in sporting clays where she made the open All-American Team at just 12 years old. The following year, she attended a Junior Olympic Development Camp where she became focused on bunker trap when she realized it was a sport at the Olympics. In 2007, won the bronze medal in the National Junior Olympic Championships. Her performance in Tokyo secured a Silver medal for the US, breaking just one target less than the event leader from Slovakia.
In response to International events being held on the front end of Nationals, Kayle attended the 2020 SCTP National Championship to provide coaching for youth athletes focused on Bunker Trap. Kayle covered the National Championship in her podcast, Beyond The Podium.Listen to the episode here:
Beyond The Podium: SCTP Nationals
MADELYNN BERNAU, BRIAN BURROWS BRONZE, MIXED TEAM TRAP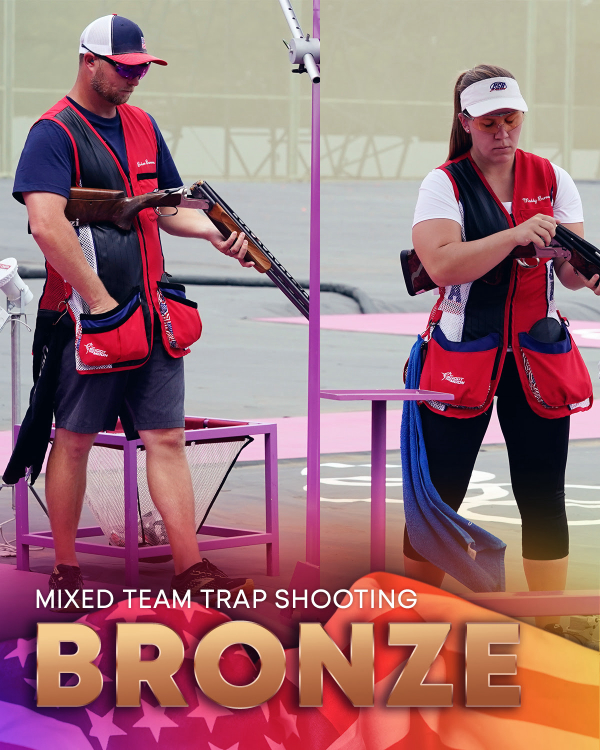 Madelyn or "Maddy" Bernau began her path to becoming an Olympian when she joined the Waterford Wolverine Shooting Team, participating in the Scholastic Clay Target Program. In the Spring of 2014, Maddy attended an SCTP development camp as a team member on the SCTP International Team, held at the Olympic Training Center in Colorado Springs, Colorado. The camp was designed to introduce young SCTP athletes into the Olympic disciplines of shotgun sports by subject matter experts, including team coach, Olympic trapshooting medalist Terri DeWitt.
Madelyn's Bronze medal came after a heartbreaking qualification round of Women's Trap, missing the cutoff by one clay behind her USA teammate, Kayle Browning. For the Mixed Team event, Bernau was one of only two shooters to break all 75 targets. Alongside Team USA and event teammate, Brian Burrows, a shootoff against Slovakia came down to a dropped target that opened up the opportunity for Maddy. A brief moment of performing her pre-shot routine was all she needed to execute, breaking the next target and securing Bronze for the US.
JAMES HALL - 10 METER AIR PISTOL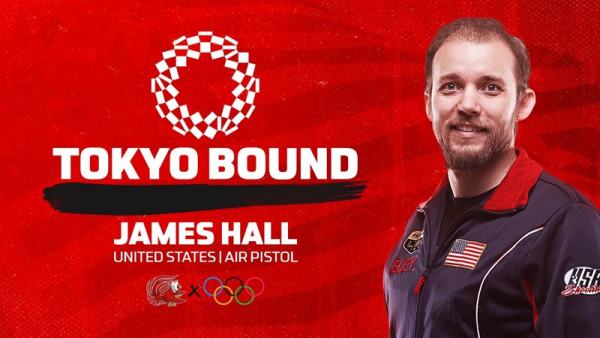 The Scholastic Action Shooting Program's own Director of Development for International Disciplines, James Hall represented Team USA in the 10 Meter Air Pistol and Mixed Team events. Hall's journey to the Olympic stage began at Jacksonville State University, where he was a four-time All American, Team Captain, and USA National Rifle Team Member. Hall secured the first U.S. quota spot in air pistol for the Olympics in Tokyo with his Gold medal at the 2018 Championship of the Americas. James was just one point from making the 10 Meter Air Pistol final and shot more x's than all but two athletes in the qualifier. Hall placed 10th in the mixed team event alongside teammate Sandra Uptagrafft.
As the official youth feeder program for USA Shooting, Hall quickly established and continues to expand the SASP's new international disciplines of 10 Meter Air Rifle, 10 Meter Air Pistol, and Sport Pistol.
JACKSON LEVERETT AND HENRY LEVERETT MEN'S 25M RAPID FIRE PISTOL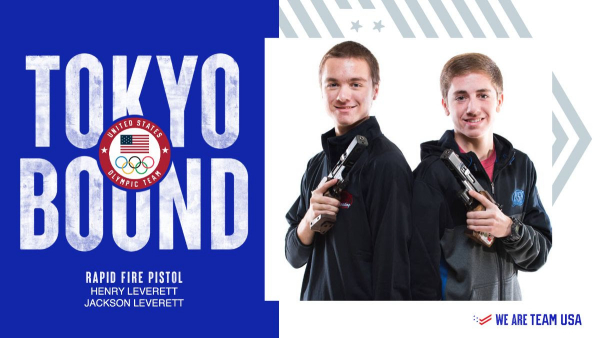 Scholastic Action Shooting Program athletes, Jackson Leverett and Henry Leverett are sophomores of the Ohio State University Pistol Team. Prior to joining the pistol team at Ohio, Leveretts set four USA Shooting national records in junior men's Rapid Fire and junior men's Sport Pistol. Henry won the U.S. Olympic Rapid Fire quota spot for the Tokyo 2020 Olympics after placing 5th in the 2019 World Cup Bejing, while Jackson helped Team USA win gold medals in Air Pistol and Rapid Fire in the 2018 Championship of the Americas.

As current SASP athletes, both Jackson and Henry are SSSF College All Americans, having secured their spots on the 1st teams for international air, sport, and standard pistol. Henry and Jackson Leverett placed 22nd and 25th in the 2nd qualification stage, respectively.
About the Scholastic Shooting Sports Foundation
The Scholastic Shooting Sports Foundation (SSSF) is 501(c)(3) public charity responsible for all aspects of the Scholastic Clay Target Program (SCTP) and Scholastic Action Shooting Program (SASP) across the United States. The SCTP and SASP are youth development programs in which adult coaches and other volunteers use shooting sports to teach and to demonstrate sportsmanship, responsibility, honesty, ethics, integrity, teamwork, and other positive life skills.

The mission of the SSSF is to provide and enhance personal growth and development opportunities for student athlete members; become the premier authority in all things pertaining to firearm-related pursuits for youth; pass on to future generations the legacy of lifelong, safe, responsible enjoyment of the shooting sports. This includes serving as a feeder/pipeline for organized, sanctioned shooting organizations and teams.