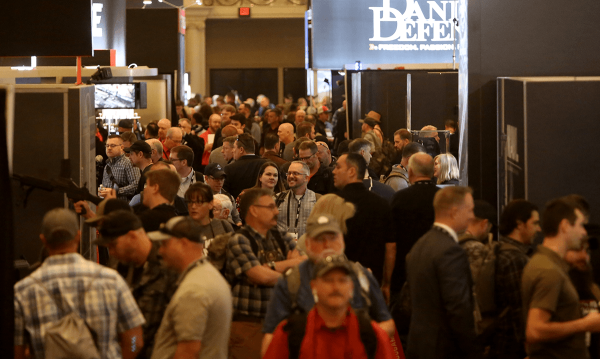 With the whispers about SHOT already starting, we're able to report two things about SHOT Show 2022 as facts.
Here you go:
Registration for SHOT Show 2021 will open next week. Attendee registration will begin on Monday, October 18. Media registration will get underway on Wednesday, October 20.
Sig Sauer, citing Covid concerns, has already notified the NSSF they are withdrawing from participation.
"We're obviously disappointed," said the NSSF's Chris Dolnack when he told me SIG's decision, "but we respect their decision."
Not attending, however, doesn't indicate a lack of support from SIG, only an abundance of caution. In support of the NSSF, SIG will once again be contributing $500,000 to offset their second absence.
While SHOT Show 2021 won't have SIG, it does appear to have 2400 other exhibitors excited about what will be the largest SHOT Show ever. When it opens January 18, 2022, it will be taking up 800,00 square feet at two venues: The Venetian Expo and the all-new Caesar's Forum. And before you start figuring how much extra walking that will mean for you, it's not as much as you might think. The planned bridge between the two convention centers has finally been completed, making it possible to walk -briskly- between the two buildings in a couple of minutes.
The largest SHOT Show -ever- was 714,000 square feet. And when that show happened in 2008 at the Las Vegas Convention Center, it meant some exhibitors were housed in tents, not permanent structures. I can still remember the complaints- some of which were mine.
It's safe to say Las Vegas has gone to school on hosting large events safely and successfully. While other convention cities are having difficulties hosting events of any significant scale, Vegas is already ramping up, with results we're told that have "exceeded expectations."
"What our trade show industry peers and partners have told us," says Dolnack, has helped us prepare for our own return."
"Las Vegas," he said, "is more ready than ever before to welcome us back." To that, he mentioned that new hotels like Resorts World and Circa, along with new attractions, are ready to offer attendees lots of options in everything from hotels to night life-in safety.
The word that SHOT 2022 was a "go" was enthusiastically received by many industry leaders. Steve Hornady, for example, said his company was "very excited to return to Vegas, see their customers face-to-face (finally), introduce some new an innovative products." Most of all, he said, he was eager to "enjoy the camaraderie that is SHOT."
Bruce Pettett, CEO of Leupold & Stevens, agreed, calling SHOT "important for the industry, and an important time to reconnect in person with customers and media from all over the world. After nearly two years, Leupold & Stevens is excited to showcase our latest products in Las Vegas in January."
And it's not just manufacturers psyched up at the idea. Bryan Tucker, CEO of Davidson's, one of the industry's largest distributors, says they're "super, super excited to once again be attending SHOT Show."
"Since the early 1980s, 'the show' has played a tremendous role in our success. We can't wait to see our customers and partners face-to-face again."
While the concerns remain for other shows in smaller cities, it looks that barring something truly unforeseen - and none of us should ever discount that possibility after the past 18 months- we'll be seeing, crowding and visiting with each other in Las Vegas in January.
My feet disagree, but my mind's pretty eager.
We'll keep you posted.
— Jim Shepherd