The adjusted NICS numbers from the National Shooting Sports Foundation came out yesterday afternoon. As you may have surmised, 2020 -despite being a crazy year- has been a very good one for the firearms industry. We're not going to venture a guess as to whether that's a vote of confidence in shooting sports or a nervous public trying to assuage their nervousness about the future. Your answer, like the mileage in your car, may vary with local conditions.
Looking at the numbers, Black Friday -the day, showed a slight dip in sales. Overall, however, the Black Friday weekend numbers were higher. Hopefully, that's a reflection of retailers realizing that they're going to actually have more sales if they space their Black Friday "specials" out over the weekend. A smothered NICS system on Black Friday isn't helpful for overall results. The NSSF's been preaching that lesson to member retailers- hopefully, some have started to take the lesson to heart.
Overall, the 4-Day total of adjusted NICS numbers is up 4.2 percent over 2019, with a total of 417,465 checks this year versus 400,681 in 2019.
Cyber Monday produced some eye-popping numbers, with totals up 65.2% over 2019. That's 123,797 checks versus 74,926 in 2019. Big numbers.
Overall, November 2020's numbers were another record. The November 2020 NSSF-adjusted NICS figures: 1,949,141- an increase of 45.2 percent over 2019-the previous record year.
Year-to-Date, we've seen 19.1 million adjusted NICS checks -a record setting year for firearms sales. According to the NSSF's Retailer Surveys, nearly 7.7 million people were first-time firearms buyers in 2020.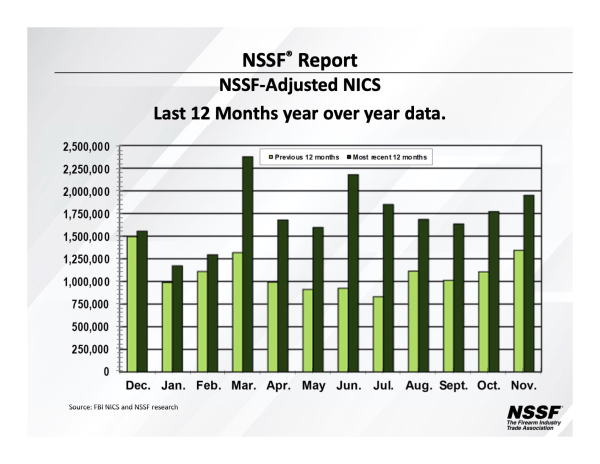 So, you might ask, what does that mean? Here's the answer from NSSF's Director of Public Affairs, Mark Oliva:
"November background checks are in line with what we've seen all year long. Americans continue to purchase firearms at record pace for a variety of reasons, including concerns for personal safety, onerous gun control plans by a Biden-Harris administration and for lawful purposes including recreational shooting, hunting and self-defense.
"The fact that the pace of these sales hasn't slowed since March shows Americans value their Second Amendment freedoms and will exercise the right to keep and bear arms of their choosing.
"Politicians looking for a mandate on firearms should examine the record setting figures Americans are posting every month with firearm sales. Americans have told their elected representatives more than 19 million times exactly where their voters stand when it comes to their rights, more than 7.5 million making that declaration publicly for the first time in their lives."
Couldn't have said it better myself. Unfortunately, it doesn't seem politicians listen to obvious until there's a crisis. Hopefully, they're not contributing to the creation of one with their tone deaf insistence on infringing on individual rights and freedoms.
We'll keep you posted.
— Jim Shepherd