USA Kayle Browning Adds Silver to USA Shooting Medal Haul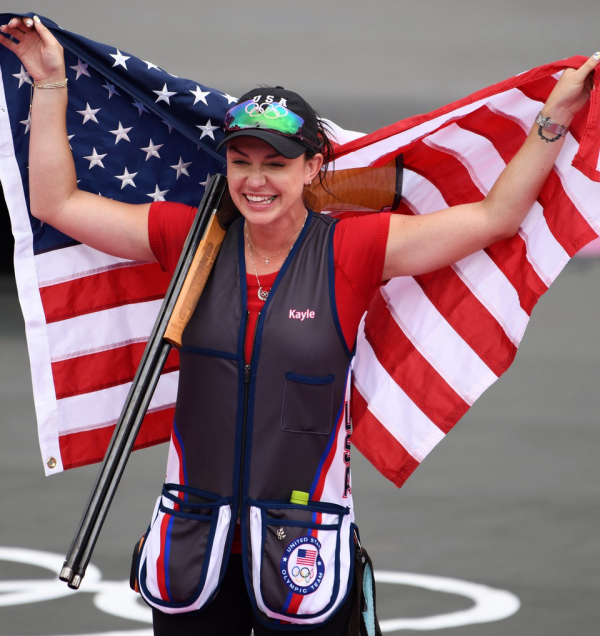 USA's Kayle Browning added her name to the list of Americans that have won shooting medals in the 2020 Olympics, taking a silver medal in Women's Trap, Thursday in Tokyo.
Matching her best performance of her career, she finished second in the 2019 trap finals at the World Cup in Acapulco, Mexico, the 29-year-old from Wooster, AR, struggled early missing the first two targets and three of the first four in the finals, but after a slow start of hitting just 6 of 10 targets, Browning moved from last to first hitting 26 consecutive targets and sitting 31 targets had a two-point lead over eventual winner of the gold medal Zuzana Stefechekova Rehak of Slovakia.
"After years of training, I knew I could say 'OK, let those misses go, and let's get back into it," Browning said of the early misses. "That is what I tried to do."
USA Coach Jay Waldron had seen a similar situation earlier in the games in Men's skeet, when then two-time golf medalist Vincent Hancock hit the first 100 targets in qualifying and with just 25 targets remaining to equal the world record.
Hancock missed three targets and was left with a fight for his competitive life having to participate in 6 for 3 shoot off to get in the finals, and eventually won the gold medal.
"I think it really just shows the grit this team has right now, we just have a lot of grit and a lot of resolve," said Waldron, "Not letting that affect her in the future and really focusing on the moment and getting it done."

Unfortunately, for Browning she would lose the lead missing four of eight targets between the bronze and golf medal portion of the competition finishing one hit target behind Stefechekova Rehak, 43 to 42.
"This the pinnacle of my career so far," Browning said after her performance. "I have worked for his moment for my whole life. I don't really have words to describe it, but I am definitely proud."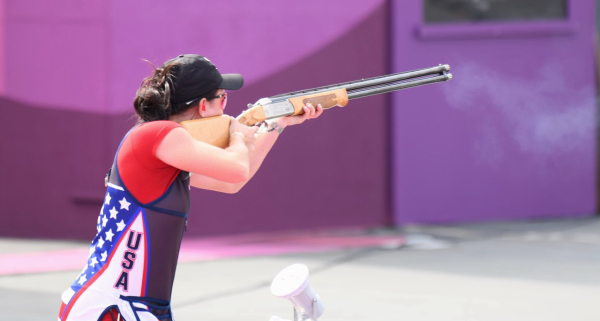 Browning's silver is the third by USA Shooting in these Olympic games and fifth medal for the team in total, a far cry from 2016 in Rio when the USA won two bronze medals, one by Kim Rhode in skeet and Corey Cogdell in trap.
With mixed team trap remaining, the USA has one more chance at a medal, but no matter the outcome, the USA shotgun team is leaving Tokyo on a high with every one of the medalists committed to returning in three years in Paris.
"Its super exciting," Waldron said of his athletes committed to returning for Paris. "I was really worried in 2019 we were on a huge roll, we were taking World Cups and winning medals and the team was really just hitting on all cylinders and then of course we got shut down, it's like a flat rock, you get that flat rock going and it takes a lot of energy, a lot of commitment but we've got that rolling now, we got the ball back rolling, so I'm super excited not only for the core group of veterans we have that are competing right now, but our pipeline of juniors that are coming up that are someday going to take their place"
For Browning, the drive, even after the silver was in the forefront of her mind.
"I remember my dad, who kept telling me 'even if you miss, even if you are behind, never give up, keep fighting that last shot, and give it your best shot'", Browning said. "I am still chasing the gold."

---
Jacob Wukie Climbs Brackets, Faces Teammate Ellison in 1/8 Match
TOKYO, Japan – It's been nearly a decade since Jacob Wukie has set foot on the Olympic stage after winning team silver at London 2012. In the meantime, he's seldom been seen on the international scene as he took some time to focus on building a family; he and his wife have three sweet daughters, but his archery fire stayed lit despite his absence from major competition. Wukie started slow in Tokyo, qualifying 47th, but he climbed the brackets in preliminary matches today, knocking out the 18th and 15th seeds on his way to the top 16.
Wukie appeared calm, cool and composed with an intense focus in his eyes for his first match against Chile's Andres Aguilar. It was clear that despite the rankings, Wukie was not the underdog. It wasn't until his 9th arrow of the 12-arrow match that he drifted just outside the gold rings. He cleaned a 7-1 victory to advance.
Then, shooting against Indonesia's Riau Salsabilla, Wukie's strong performance continued. On raw score, Wukie had the match in the bag, but with the set system scoring, it was more of a back and forth battle that went to a one-arrow shoot off. Salsabilla fired off an 8 and Wukie responded with a 9 to claim the win.
"I was a little bit nervous, but not bad," shared Wukie. "The wind, for the most part wasn't bad, but some shots were tricky and some shots it caught me on, so to an extent that helped me to be able to focus and paying attention to the wind, figuring out the best I can."
In Wukie's next match, the 1/8th round, he'll face teammate Brady Ellison. "I'm looking forward to that match," shared Wukie. "We knew we were going to meet at this point after the qualification and so, I just have so much respect for Brady as a competitor and as a friend. I want nothing but the best for him; in addition, being a competitor, obviously I want to win, so it's a bit of a win-win. I'll be happy for him if he gets it and I'll be happy if I get it, so it should be a good match and I'm looking forward to it."
The men's finals will be contested on Saturday in Tokyo, but before Ellison and Wukie resume competition, USA's Mackenzie Brown returns to the stage for the women's finals day on Friday. Follow Team USA via live scores, and tune in for video streaming and broadcast.