Even the most seasoned anglers can occasionally run afoul of local fishery laws. That's particularly true for anglers who travel a lot, as the Major League Fishing Bass Pro anglers do. Knowing every law in every state would require that you travel with your own attorney.
We were reminded of that last week when Jacob Wheeler and Alton Jones, Jr., both received citations from the Minnesota DNR for violation of the states single-line regulation. Although fishing with multiple lines is legal in many states, that's not the case in Minnesota. The anglers were both written up.
According to MFL, they have accepted responsibility, will pay their fines, and will face no further disciplinary action from the tournament agency.
Minnesota allows one line per fishing license, with the exception of two lines allowed for ice fishing and for fishing on the Mississippi River and Lake Superior. Multiple hook lures are legal, but Alabama rigs, with multiple lures, are not.
MLF says they should have cautioned the anglers in advance, and you can be sure their legal eagles are combing the laws of every state where the organization holds tournaments this week to be sure they have the current information to pass on to competitors in future events.
But even that won't necessarily be enough in some cases. It's a rare lifelong angler who has not had one of those "oops!" moments with the fish cops. My own came during an outing on the famed phosphate pits near Lakeland, Florida, many years ago.
It was an outdoors writer junket in which several dozen of us were allowed into a completely untouched pit where the bass had been growing big and stupid for years. The fishing was, to put it mildly, fantastic, with 5 and 6 pound bass almost jumping in the boat and the occasional 7 and 8 coming over the side.
However, the local Lakeland office of the FWC had gotten wind of the event and decided to send a couple officers out to check, just to make sure all of us were on the up-and-up.
I had no concerns when the officers pulled up to our boat because I knew I had my freshwater license in my wallet.
And I did, but as the officer pointed out, it had expired over a month before the fishing trip. He grinned and handed me a citation for $105, a reminder not to let that happen again.
Jimmy Rogers, a well-known Florida TV fishing personality now deceased, was fishing on the other side of the lake and saw the gendarmes arrive. He pulled his boat to the shore, ran back to his truck, drove to a nearby baitshop and bought his license, then came back and got in his boat and was duly checked—and approved—by the law. No citation.
He never let me live it down, that he had a flawless Game and Fish record and I did not.
Jimmy had a great sense of humor, especially where it concerned me, and was given to playing the occasional joke.
He once borrowed my boat for a trip to the Everglades, and when he brought it back, he left a dozen pinfish in the bait tank. Parked in my yard, the bait soon did what bait does in the Florida sun—the whole boat reeked.
I got him back on that one, however.
I took a couple of the pinfish out of the well—wearing rubber gloves, of course—dropped them in a plastic bag and mailed them to Jimmy with a note.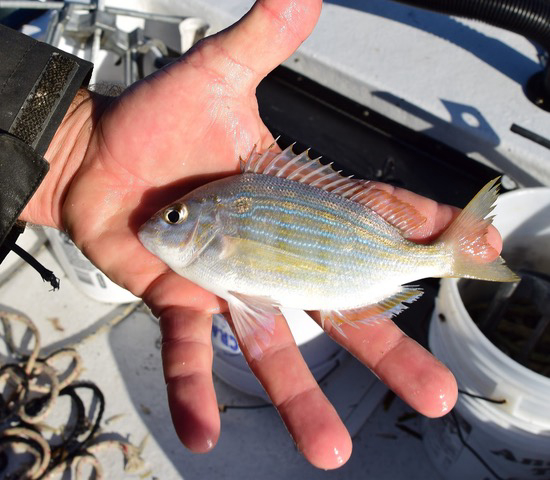 "Hope you enjoyed the boat but I see you forgot something, so I'm shipping it back to you," is roughly what it said.
Jimmy said he had to change mailboxes after that one, so I guess we were even.
I don't know if there's a law about using the U.S. mail to ship dead pinfish, but if there is this is my mea culpa.
-- Frank Sargeant