Following last week's announcement that manslaughter charges had been dismissed against actor Alec Baldwin following the now-infamous Rust film "accident," the predictable mainstream pounding of the guns, violence and tragedy drum resumed.
Unfortunately (for them), most of America has become immune to their noise. Instead, we're attuned to the fact that personal responsibility is more important than political correctness when it comes to matters of personal security.
Two weeks ago, the Washington Post in "collaboration" with The Trace released what was, in essence, a recycled hit piece on SIG. Billed as a "collaboration" between the two, it was essentially the same piece The Trace has been peddling into newspapers across the country for some time.
The subject? SIG's P320 pistol. More accurately, they're continuing to ask: Is the SIG P320 pistol safe?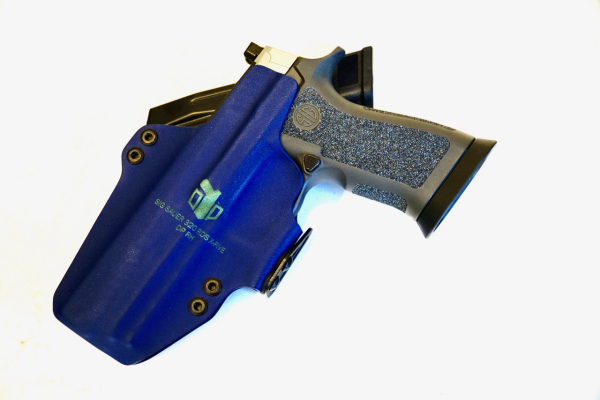 The "safety question" The Trace has pushed since SIG first won a hotly-contested Army contract to replace the aging Beretta 92 sidearm with the SIG P320.
The whole issue centers around claims that the P320 is subject what I will now call "the Alec Baldwin syndrome" -firing without anyone touching the trigger. If you've been reading about guns for very long, you've seen something -somewhere- about the controversy.
And you've read of a litany of lawsuits filed against the New Hampshire-based SIG for injuries allegedly suffered due to the P320's propensity to discharge itself.
You've likely also noticed a decided lack of public response from SIG. Where one might anticipate a vigorous counter-offensive via a PR blitz or nationwide demonstrations of the safety of the P320, there's been a decidedly limited public response.
You might interpret that as a "no comment" position- usually the precursor to quiet settlements between the aggrieved parties and SIG. After all, these safety questions could call into question some very impressive military contracts worldwide. Settlements can come wrapped in nondisclosures, keeping the controversy, essentially, out of the public eye.
But you'd be misinterpreting the silence from SIG.
SIG's not reluctant to defend their P320. But they've done it - vigorously - where it has been most important - in courtrooms around the country.
On April 10, SIG added yet another successful defense of their P320, this time in a federal court in Bowling Green, Kentucky. There, a claim was made that a P320 had gone off -again without a trigger pull.
SIG had already won another very similar case in New Hampshire last July.
Both cases, not coincidentally, were brought by the same lawyer: Jeffrey Bagnell. His practice has come to include the recruitment of clients who say they were shot as a result of a "design defect" in the P320.
Bagnell's Kentucky case fell apart under Kentucky product liability law.
The reason? Neither of his expert witnesses conducted any physical testing. Not of the pistol in question- or any other pistol- to test their hypothesis of inherent design defects being the reason behind the gun's unexpected discharge.
In his summary judgement in favor of SIG, Judge Greg Stivers wrote:
"Neither of the experts have conducted physical testing on Mayes' pistol specifically, nor any other pistol to support their theory regarding the amount of rollover needed to cause an uncommanded discharge. They also do not offer any calculations to support their theories.
"Plainly, both experts opine that a raised surface on the interface between components of the gun could result in an uncommanded discharge in theory. But neither (Timothy) Hicks nor (Peter) Villani offers any evidence suggesting that such an uncommanded discharge occurs generally or that it did in this case."
So why isn't SIG trumpeting these recent wins? Interesting question.
I can't give you an "official" answer. No one at SIG is going to talk - on or off- the record regarding ongoing or pending litigation. There are still other cases out there. With litigation, quiet is always the correct course of action, despite your quietly winning the cases - one at a time - around the country.
The silence has to be difficult with the mainstream media continuing to push the safety question with little, if any, consideration for the fact that the SIG P320 may be one of - if not the-most- tested handgun in history.
Or the simple fact that subsequent to all that testing, the United States military has more than enough confidence in the P320s to continue issuing them to soldiers heading into life-and-death situations. They routinely stop issuing gear if/when there are safety questions.
Sounds like a ready-made opportunity to make -and win- a public relations assertion that there's an inherent media bias against guns.
But there just may be another reason for that reluctance.
SIG products are unquestionably popular with all manner of military, law enforcement and civilian security groups. A number of those now-questionable product liability suits were filed on behalf of members of those groups.
In defending their products, SIG is faced with a conflicting situation not unlike GLOCK faced with their infamous "GLOCK trigger" controversy some years ago.
In order to defend their products they are forced to argue that some members of their core clientele are guilty of either inept or careless gun handling practices.
In one (dismissed) case, an officer said his P320 discharged in his holster. His attorney offered video evidence to jurors of the gun appearing to do exactly that.
On the surface, it looked a lot like a proverbial "smoking gun".
It played out differently in the courtroom.
There, the unedited video was played.
Played in context and unedited, the video demonstrated the officer constantly "fidgeting" with his pistol, shifting it around in the holster until only seconds before the alleged self-discharge.
Case dismissed. SIG was equally silent about racking up that win.
So what's a company to do or say in that sort of situation?
I have no idea. And I'm glad I don't need to come up with an answer.
We'll keep you posted.
— Jim Shepherd