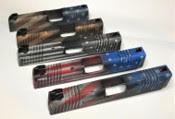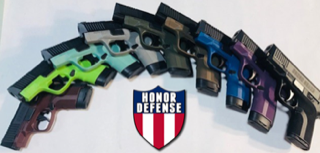 Honor Defense has developed a new concept in firearm retailing that provides the ultimate in differentiation. Honor Defense has developed a "Design Center" where consumers can design their own pistol in the store.

What better place to showcase this than the new Shooter's World in Orlando, FL.
This new store has been heralded as the "Future of Firearm Retailing" by Forbes.
You can read more by following this link: https://www.forbes.com/sites/pamdanziger/2019/07/07/shooters-world-orlando-sets-a-new-benchmark-for-the-future-of-gun-retail/

"We are the only ones that have this type of retail modular offering and are thrilled to be have a design center in the new Shooter's World - Orlando store. Consumers can select from 10 different slides, 12 different Grips and 2 chassis configurations to personalize their own pistols. This provides the ultimate in product differentiation for consumers and retailers. Between this concept and recently being named a Top 10 pistol for 2019, we look forward to another great year" says Gary Ramey – President of Honor Defense.

About Honor Defense
Honor Defense firearms are designed with guidance from professionals that carry a firearm for a living. Advisors have backgrounds from Law Enforcement/SWAT, Federal Law Enforcement, Military Special Operations, CIA, and Civilian Training.

The firearms are ambidextrous with a stainless-steel chassis and all key parts are stainless steel. Honor Defense is 100% USA with all parts sourced and manufactured in America and assembled by Veterans. They are +P proofed and come with a Lifetime Warranty.

To learn more, their website is www.honordefense.com, or contact them at info@honordefense.com or 678-943-8035.